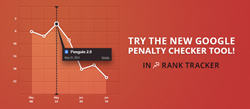 (PRWEB) September 02, 2015
Link-Assistant.Com, the major SEO software provider and the company behind SEO PowerSuite, announced the addition of Google Penalty Detection feature to Rank Tracker, one of the 4 tools in SEO PowerSuite toolkit. The new feature lets users see at a glance whether Google updates has impacted their sites' search performance: organic traffic, search engine rankings or overall search engine visibility.
"There've been quite a few updates from Google lately: Penguins, Pandas, mobile and local updates, and what not. It's often hard for site owners to know for sure which update exactly has caused an SEO dropdown, if any," says Aleh Barysevich, CMO and Co-Founder, Link-Assistant.Com.
"Knowing which update precisely to blame for an SEO dropdown is crucial though because it's the only way one can take adequate measures to restore their online presence. With Google Penalty Detection feature, Rank Tracker lets users see at a glance and build a solid recovery plan," continues Aleh.
How the new feature works
Rank Tracker users can now match changes in their organic traffic and rankings to the exact dates of Google algo updates right on their Rank Tracker's progress graph. This way one can see at a glance how different updates have impacted their site's performance.
To be more specific, Rank Tracker users will be able to both check for drops in traffic form Google and check for drops in Google rankings.
If one spots a traffic drop that corresponds to a Google update, Link-Assistant.Com team suggests the exact steps to follow at http://www.link-assistant.com/news/google-penalty-checker.html.
Link-Assistant.Com shares all their weekly updates with their vibrant SEO community. To make sure you don't miss single news, follow the company on Facebook fb.me/LinkAssistant, Twitter @LinkAssistant or Google Plus gplus.to/LinkAssistant.
About Link-Assistant.Com and SEO PowerSuite
Link-Assistant.Com is the maker of SEO PowerSuite - the all-in-one SEO software for search marketers, digital agencies and bloggers. SEO PowerSuite is a toolset made up of 4 individual tools – Rank Tracker, WebSite Auditor, SEO SpyGlass (to check backlinks) and LinkAssistant – delivering best results when combined. Link-Assistant.Com is a small and dedicated company that competes on software excellence and customer service. The company embraces the changing role of SEO in today's digital marketing world and believes that brands will keep relying on accurate SEO data to succeed online.