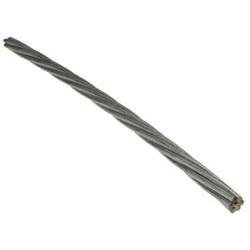 "The guy wire addition is a great example of our sales people taking the time to learn about our customers and listen to their needs."
Urbana, Iowa (PRWEB) September 02, 2015
US Cargo Control recently added a new product category of guy wire and hardware used to erect towers in the communications, antenna and utility industries.
The company added several new products including 1x19 galvanized guy strand (EHS), 1X7 galvanized guy strand (EHS), big grip dead ends, also known as preforms, and end sleeves, also known as ice clips. As a leading supplier in the rigging, lifting and cargo securement industries US Cargo Control already offered a variety of hardware, including shackles, turnbuckles, wire rope clips, and wire rope thimbles.
US Cargo Control Category Manager JJ Floss said the decision to add the product line came after industry professionals contacted the company in search of industrial-quality equipment that could ship quickly nationwide.
"We realized quickly this could be a win-win for us and customers in the industry," Floss explained. "We did the research and took the steps to become a distributor of products necessary for this type of specialized work."
The company's extra high strength (EHS) guy wire meets ASTM A475, the standard specification for zinc-coated steel wire strand. All products meet TIA/EIA-222 provisions. Custom pricing is available for contractors and other large volume customers.
Floss says the new line is another example of the company's employees building relationships and listening to customers as a way to improve and expand its product line.
"The guy wire addition is a great example of our sales people taking the time to learn about our customers and listen to their needs," Floss said. "Our number one goal is to get the customer what they want, when they need it."
The new products are available for purchase online or by calling the US Cargo Control sales team at 800-660-3585. Customers can also send inquires via email to: TowerProducts(at)USCargoControl(dot)com.
###
About US Cargo Control
US Cargo Control is a leader in the cargo control industry, specializing in lifting slings, cargo control, rigging equipment and moving supplies. Focused on offering quality products, timely delivery, and an excellent customer experience, customers can purchase products on the company's website, USCargoControl.com or by phone.