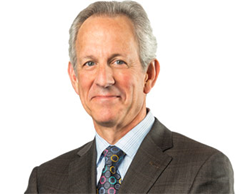 Clients like the McKissicks are an inspiration. They have turned one of the darkest parts of their life into something positive.
Minneapolis, MN (PRWEB) September 03, 2015
PritzkerOlsen law firm clients John and Pat McKissick helped the American Association for Justice (AAJ) introduce its new report, Food Safety and the Civil Justice System. The McKissicks became food safety advocates after John became severely ill from a product tainted with Listeria monocytogenes.
"Clients like the McKissicks are an inspiration," said Brendan Flaherty, one of the lawyers who represented the McKissicks. "They have turned one of the darkest parts of their life into something positive. By telling their story and advocating for better food, they are helping to protect all of us."
"John was in the hospital unconscious, intubated. His blood pressure spiked. He had small strokes and sepsis," Pat McKissick said during the press call announcing the AAJ report. "I interviewed several law firms until I hired PritzkerOlsen. It was the best decision I made," continued Pat McKissick. "Fred Pritzker and Brendan Flaherty carried John and me through these months of fear. They found out through their investigation how John got sick, and where the contamination happened. Fred Pritzker himself knew more about Listeria than anyone in the medical field and anyone we came into contact with. We faced mounting medical costs, and our quality of life completely changed. We faced an uncertain future. We are grateful that we had a good lawyer on our side."
At the press call, John and Pat McKissick stressed the need for money to fund the Food Safety Modernization Act. "Candidates should be challenged to discuss what they are doing for food safety. It affects everyone. Something has to be done to make sure that we don't leave ourselves vulnerable to this thing," said John.
The report discusses how problems with federal regulatory system have created a situation where food companies are able to sell contaminated food with little or no government interference.
Attorney Fred Pritzker, who also represented the McKissicks, had this to say: "This report highlights problems and issues we confront on a daily basis successfully representing survivors of foodborne illness."
"The system of food regulation in this country is cumbersome and antiquated. It is also underfunded. And there's too much deference given to food companies at the expense of consumer safety," continued attorney Pritzker. "In too many outbreak cases, the fault of the processor is often abetted by the systemic failures of our food safety system. I can't tell you how many times I've heard 'We have the safest food in the world.' Tell that to the tens of thousands of people sickened and killed each year by food poisoning."
Given these failures, "lawsuits have proven to be the most effective, and sometimes the only, mechanism for deterring negligent behavior and rooting out systemic problems in the food chain," according to the report. "When food companies put profits before safety, and the regulatory system proves unable to force change, it has fallen to the civil justice system to protect consumers."
Attorney Flaherty agrees: "We believe that justice requires compensation for those injured by defective food. More than that, we believe that by bringing cases against reckless food manufacturers, our clients are making a positive difference for everybody."
One reason for the effectiveness of these cases is because they involve strict liability claims, meaning the person sickened does not need to prove that the processor, distributor, restaurant or retailer was negligent. This gives producers, suppliers and buyers "a powerful incentive to promote safety," according to the AAJ report.
Pritzker and Flaherty have represented people sickened in most of the major foodborne outbreaks in the United States. Many of these people have been young children sickened by E. coli O157:H7, Listeria and Salmonella.
"The most tragic part of many foodborne illness outbreaks is when children are severely injured or killed. One of the reasons our firm is committed to making our food safer is that we've seen firsthand what it is like for a parent to lose a child because the food they served was contaminated," said attorney Flaherty. These children have developed severe complications, including kidney failure from hemolytic uremic syndrome (HUS), meningitis, pancreatitis and respiratory failure.
PritzkerOlsen, P.A., is a national food safety law firm that represents clients with personal injury and wrongful death claims in lawsuits against some of the largest corporations in the U.S. The firm's Bad Bug Law Team® has won millions for people sickened by food and the families of those who did not survive. They have handled cases involving the following pathogens: Campylobacter, Cyclospora, Shiga-toxin producing Escherichia coli (STEC), Listeria, Shigella, Salmonella and Vibrio.
Attorneys Fred Pritzker and Brendan Flaherty can be reached at 1-888-377-8900 (toll free) or via the firm's website, http://www.pritzkerlaw.com. PritzkerOlsen law firm represents clients throughout the United States. Its offices are located in Minneapolis, Minnesota.