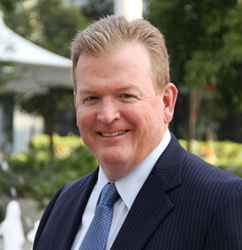 Irvine, Calif. (PRWEB) September 02, 2015
Mike Lockwood, CFP®, CRPC®, investment advisor representative and registered representative of Lincoln Financial Advisors Corp., was recently named 2014 Planner of the Year by Lincoln Financial Network (LFN). The Planner of the Year recognition is awarded annually to the leading financial planners among thousands affiliated with LFN's broker-dealer, Lincoln Financial Advisors Corp. (LFA).
In a tradition dating back to 1906, the LFN Planners of the Year will have their names engraved on plaques, which are presented and displayed in Lincoln offices. This is Lockwood's first time receiving the award.
"This award is the highest acknowledgment we give to our advisors," said David Berkowitz, president of Lincoln Financial Network. "It is a direct reflection of their strong dedication to the business and unwavering commitment to serving their clients. I applaud their hard work and thank them for their contributions to our organization."
Lockwood, a 27-year financial planning industry veteran, joined LFA in 1987. Within his practice, he focuses on retirement transition planning and wealth management for executives, retirees, healthcare professionals, and government employees. Lockwood currently serves as Retirement Plan Services Committee chair on the Board of Directors for The Resource Group, an invitation-only, nationwide network of the top 200 planners within LFA.
Lockwood received a bachelor of science degree in business marketing and finance from California State University in Bakersfield, Calif. He holds the professional designations of CERTIFIED FINANCIAL PLANNER™ (CFP®) and Chartered Retirement Planning Counselor (CRPC), as well as the FINRA series 7 registration.
Lockwood's office is located at 18400 Von Karman Avenue, Suite 450, Irvine, Calif.
About Lincoln Financial Network
Lincoln Financial Network is the marketing name for the retail sales and financial planning affiliates of Lincoln Financial Group and includes Lincoln Financial Advisors Corp. and Lincoln Financial Securities Corporation, both members of FINRA and SIPC. Consisting of approximately 8,500 representatives, agents, and full-service financial planners throughout the United States, Lincoln Financial Network professionals can offer financial planning and advisory services, retirement services, life products, annuities, investments, and trust services to affluent individuals, business owners, and families.