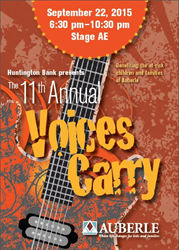 "It's one event I just don't want to miss..." Donnie Iris
Pittsburgh, PA (PRWEB) September 03, 2015
On Tuesday Sept. 22, over 500 guests are expected to join Auberle at Stage AE for the 11th Annual Voices Carry fundraiser presented by Huntington Bank. The unique rock concert fundraiser, which helps support the at-risk children and families Auberle serves, kicks off at 6:30 p.m. with live music until 10:30 p.m.
The event features 13 well-known Pittsburgh musicians who donate their talent to raise funds for Auberle by performing original music and recognizable covers in the authentic style that made them famous. The 11th Annual Voices Carry will be emceed by WDVE morning show host, Randy Baumann. Event performers include Donnie Iris, Joe Grushecky, Chris Higbee, Melinda Collaizzi, Tony Janflone Jr., Sandy Dowe, Scott Blasey of The Clarks and many more. For a complete list of performers, http://www.auberle.org/voices-carry
"It's the one event I just don't want to miss. It's a great cause filled with good jamming, good food and a camaraderie between musicians that is unmistakable," said Donnie Iris in the Tribune Review.
Auberle is a nationally award-winning human service organization that changes lives for kids and families throughout eight counties in southwestern Pennsylvania. Auberle was named Agency of the Year in the United States by the Alliance for Children and Families, the largest network of human services organizations in the United States.
"Voices Carry is our largest event of the year and it's been one of the most exciting events in the city for the last 11 years," said Auberle CEO John Lydon. "We are grateful that Pittsburgh's finest musicians and Randy Baumann donate their time each year to raise awareness about the work that Auberle does. It's a fun opportunity to celebrate with our supporters and introduce new people to Auberle."
Voices Carry was launched to raise awareness and funds for Auberle's 16 program areas that provide service to over 3,100 at-risk children and families each year. Last year's event welcomed over 540 guests and raised over $130,000 for Auberle. Three weeks before the event, Auberle is poised to raise more than ever. For more information about the event, http:/http://www.auberle.org/voices-carry