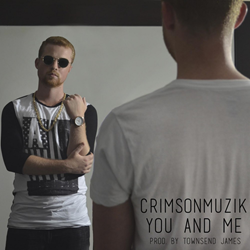 Columbia, SC (PRWEB) September 02, 2015
Today Coast 2 Coast Mixtapes presents the latest music video release by CrimsonMuzik for his new single "You And Me."
"It's a track about the hip hop culture as I've experienced it and how it's effected me," says Crimson. "It develops further to show that I don't want to let people see how it's effecting me, and tells about how I cope with this industry. Lastly the song introduces a love connection and we see that the security I find in that connection is what allows me to be open with everyone about everything."
The video can be viewed in its entirety at the official Coast 2 Coast Mixtapes website.
CrimsonMuzik is currently seeking press opportunities, interviews, features, and more. He can be reached at through his official Twitter page.
"You And Me" is also currently available for download on iTunes.
About CrimsonPeak: Lee Andes, aka CrimsonMuzik, started his career in music when he was a junior in high school with TJ Pompeo, aka T.Jay making rap music in his den to various mainstream song instrumentals. After a year and a half of developing his new found passion, CrimsonMuzik decided to get serious with music shortly after performing a song that he was featured on for a local Bible study group called DURAG. Soon after that night he began producing and writing his first album "Love Over Everything". About nine months later he had completed the project, had it distributed to all major e-tailors, i.e. iTunes, Rhapsody, Napster, etc., and sold 100 copies all before doing any solo performances. After his excitement from completing an entire album had passed he began to redefine his craft so as not to be defined by any stereotype but rather to expose himself through his music. Shaping his lyrics into more "transparent rap."
He says, "I just tell my story, whether it's a lesson I've learned or a lesson I'm learning, I don't want to hide from my story by expressing things that aren't real to me in one sense or another."
CrimsonMuzik's subject matter is generally focused on work ethic, pursuing your dream, determination and a strikingly passionate desire to provide for his family. Nothing is off limits for this artist. He's constantly writing and diversifying his concepts to include different lyrical styles such as more intellectual, i.e. Lupe & Common, and more spiritual, i.e. Lecrae, & Andy Mineo; but ask CrimsonMuzik who he thinks he's most similar to in both his flow and writing style and he will tell you, "I have no idea, you tell me." With an artist striving this hard to differentiate his content from the rest of the market, it's impossible to tell what turns may await. One thing is certain though, if you listen to this emcee's tracks you'll see that he's incredibly focused and has a "bring it on" attitude toward the struggles this industry so often presents in the pursuit of being more than a drop in the bucket.
For more info on CrimsonPeak visit his official Facebook fanpage.
About Coast 2 Coast Mixtapes:
Coast 2 Coast Mixtapes are the most widely distributed mixtapes in the world, with over 100 million downloads/plays generated by over 300 volumes officially hosted by major artists. Coast 2 Coast has a solid reach in the new music industry with a digital magazine, DJ coalition, industry tips blog, yearly convention, and more. Coast 2 Coast Mixtapes represents a unique opportunity for artists of all urban genres, from major to indie. For more information, visit http://www.coast2coastmixtapes.com.