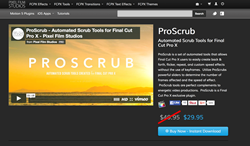 This FCPX plugin comes with so many options that it will be ideal for any Final Cut Pro X Editor.
Aliso Viejo, CA (PRWEB) September 03, 2015
ProScrub is a set of automated tools that allow Final Cut Pro X users to easily create back & forth, flicker, repeat, and custom speed effects without the use of keyframes. Utilize ProScrub's powerful sliders to determine the number of frames affected and the speed of effect. ProScrub tools are perfect complements to energetic video productions. ProScrub is a Final Cut Pro X exclusive plugin.
ProScrub's various effects allow for limitless possibilities in FCPX. Scrub back and forth between two points to create a fast-forward and rewind effect with the "Back & Forth" preset. Utilize flicker to endlessly jump between frames. With the "Repeat" effect, users can endlessly loop a segment of any video clip.
ProScrub presets come with a frame blending option that helps to smooth the look of a given effect over the duration of the video clip it is applied to. Users can go to the inspector window and toggle on the "Frame Blending" checkbox for a blended look. For a more contrasted look, leave the option unchecked.
ProScrub is extremely easy to use in Final Cut Pro X. First compound the video clip. Next, apply a ProScrub preset to the clip and adjust the "Frames Affected" slider to determine how many frames ProScrub should affect. Utilize the speed slider to increase the speed of the effect over the duration of a video clip.
ProScrub's custom speed tool allows FCPX users to alter the timing of video clips to match the curvature of a speed graph. Easily utilize on-screen controls to manipulate the curvature of the graph and change the speed of any video clip in Final Cut Pro X.
Established in 2006, Aliso Viejo, California-based Pixel Film Studios is an innovative developer of visual effects tools for the post-production and broadcast community. Their products are integrated with popular non-linear editing and compositing products from Apple FCPX. Apple, the Apple logo, Mac OS X, and Macintosh are registered trademarks of Apple Inc. in the U.S. and/or other countries. All other trademarks and trade names are the property of their respective owners.