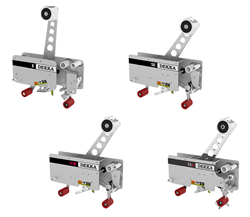 RICHMOND, B.C. (PRWEB) September 02, 2015
Dekka, powered by Pro Mach, introduces a new look and naming for their line of tape head products as part of an overall rebranding and expansion strategy. Dekka is a leading manufacturer of tape head and tape sealing machinery, and the new design will create a unified look between the tape head and machinery product lines while keeping the tape heads distinct and unique. With over 400 tape head products, the new design and simplified model names are expected to allow customers to better identify and understand the different types of Dekka products. (Pack Expo Booth C-3123)
After rebranding, the 400+ Dekka tape heads will be categorized into one of 5 different models: E, SE, HS, M and SX-T. These models each represent a distinct type of tape head. The E model is the entry-level tape head, which replaces the previous Cadet model. Aside from the cosmetic and name update, the E tape head has been drastically redesigned and improved. The next tier of tape heads is the SE, which encompasses all standard tape heads including the flagship DEKKA 22, and 23. The SX-T is an all-new premium line of tape heads with the first product being a pull-tab tape head. All high-speed tape heads will be unified under the HS model name and all other modified or custom tape heads will be deemed an M tape head.
"When deciding on the new names and looks for the tape heads, we wanted to ensure that they were easy to remember and relatable so new customers can easily get acquainted with the different product offerings while long time users of Dekka would not feel alienated or confused by the new names." said Sander Smith, Dekka product manager. "We believe the new simplified naming system is something both new and current users of Dekka can identify with."
Dekka has developed a large number of new products in recent years with the introduction of their machinery line in 2013; featuring the DEKKA 100 semi-automatic case sealer as well as the DEKKA 500, a fully automatic tape case former which was introduced in 2014.
"We have a large number of new products in development for both our tape head and machinery product line. With the number of planned releases each year, we needed a naming convention that was both scalable and easy to understand," added Mr. Smith. "We believe this is the perfect time to refresh the Dekka brand with the introduction of our new pull-tab and entry level tape heads."
For more information about Dekka's line of tape head and tape sealing machinery, call 604-278-7881 and visit http://www.DekkaIndustries.com. Be sure to stop by the Dekka Pack Expo Booth C-3123.
About Dekka
Dekka, based in Richmond, BC, Canada, is a leading manufacturer of high quality tape head systems. These high quality tape head systems are easy to load, and feature their exclusive no break tape advance system. Dekka also has a machinery line bringing the same level of quality and reliability from their tape head products to case sealing and erecting machinery. http://www.DekkaIndustries.com.
About Pro Mach
Pro Mach is a leading provider of integrated packaging and processing products and solutions for food, beverage, consumer goods, pharmaceutical, and other diverse companies. Through its brands, Pro Mach provides product packaging and processing equipment, PMMI certified training, installation, parts, and service in Bottling & Capping, Primary Packaging, Flexible Packaging, Material Handling, Labeling & Coding, and End-of-Line.
Pro Mach has a diverse customer base, from Fortune 500 companies to smaller, privately-held businesses worldwide, which depend on reliable, flexible, technologically advanced equipment and integrated solutions. Pro Mach is headquartered near Cincinnati, Ohio, with manufacturing facilities and offices throughout the United States, Canada, Mexico, and Europe. For more information about Pro Mach, visit http://www.ProMachInc.com.