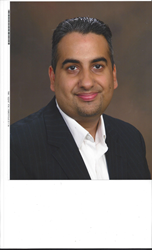 With the expansion of our team we are well positioned to achieve our goal of connecting all venues of care as the region's health information exchange
Houston,Texas (PRWEB) September 03, 2015
Healthconnect announced today that it has expanded its technology and services staff, led by a new chief technology officer, to accommodate the growing list of network participants and implementations.
Healthconnect is welcoming Deepak Chaudhry as CTO. New positions include: Rebecca Olson - director of client operations; Warren Clifford - solutions architect; and Roxanne Stanley - manager of finance and administration. Amanda Clinton has been promoted to quality services manager, and is working with providers on a daily basis to facilitate successful use of the network. Dr. Phil Beckett, the organization's former CTO, will continue working with Healthconnect in an advisory capacity.
Chaudhry brings a wealth of healthcare IT experience to the exchange and has served in a number of leadership roles. Most recently he served as vice president of information technology at Nexus Health Systems. He is also president-elect of the Houston Health Information and Management Systems Society (HIMSS) chapter. Chaudhry anticipates great opportunities ahead, "Interoperability of health information systems is critical to the evolution of healthcare as we face changing care delivery and financial models. I'm very happy to be working with the Healthconnect team to make that a reality here in the Houston area."
Beckett will be stepping down from his role to lead an expansion of HIE technology in other parts of the state, particularly in North and West Texas. He joined Healthconnect in May 2012 and served as a pioneer for interoperability in Houston and the Southeast Texas region. During his tenure as CTO, Healthconnect went live in April 2013 when CHRISTUS Health and Legacy Community Health Services became the first organizations connected to the Healthconnect network, which enables healthcare providers to electronically access and contribute prior medical histories on behalf of their patients. Since that first connection, over 280 healthcare organizations have signed on to exchange information through the network; the entire Beaumont MSA hospital community is live.
Nick Bonvino, CEO, commended Beckett for his many contributions, "We have made significant technological strides to attain a critical mass under Phil's leadership. With the expansion of our team we are well positioned to achieve our goal of connecting all venues of care as the region's health information exchange."
###
About Greater Houston Healthconnect
Greater Houston Healthconnect is an independent, community-based organization enabling interoperability among healthcare providers in Southeast Texas. Its mission is to exchange health records and diagnostic images electronically across organizations to enhance the quality, safety, and efficiency of care for all patients throughout the region. Key stakeholders include healthcare providers, payers, employers and the community as a whole.