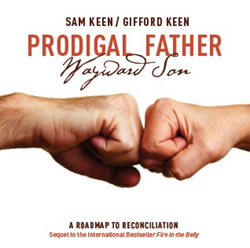 Bryn Athyn, PA (PRWEB) September 02, 2015
Date and time: Oct. 3, 2015, 9 a.m. to 4 p.m.
Location: Heilman Hall at Bryn Athyn Church Elementary School, 600 Tomlinson Road, Bryn Athyn, Pa 19009
Cost: $50 per person; includes lunch
The Quakertown, Pa.-based nonprofit, justCommunity, Inc., will host a day-long seminar featuring New York Times best-selling author Sam Keen based on his new book which he co-authored with his son, Gifford Keen.
Prodigal Father, Wayward Son: A Roadmap to Reconciliation chronicles Sam and Gifford's reconciliation and the repair of their relationship through a series of letters. The Huffington Post calls Prodigal Father, Wayward Son, "a poignant, powerful, well-written book by two full-summed and spirited men." It is a sequel to Sam Keen's international bestseller, Fire in the Belly: On Being a Man.
For more information contact Lee Rush at 215-630-4351, or visit justCommunity.
About justCommunity, Inc.
Founded and incorporated in 1999 by Lee Rush, justCommunity, Inc., is a 501(c)(3) non-profit organization based in Quakertown, Pennsylvania. justCommunity's mission is to provide consultation, education and training services in the areas of youth development, community mobilization, substance abuse prevention, student assistance practices and restorative practices to schools, government agencies and other youth-serving organizations. justCommunity also sponsors Project CARE, a state-approved provider of Student Assistance Program training and other services.
Contact: Sarah Larson at sarah(at)furiarubel(dot)com or 215-340-0480