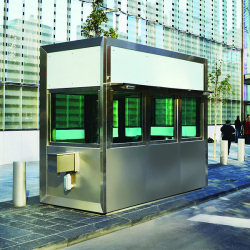 Los Angeles, CA (PRWEB) September 04, 2015
When the new One World Trade Center sought an ideal match for its sleek aesthetic and understated, but ever-present security it turned to B.I.G. Enterprises, Inc. (http://www.bigbooth.com). The new impressive "Freedom Guard Shelter" is the result – this model is newly available to guard your significant facility.
Many months of design went into these units to insure the booths met the desired ballistic resistance and architectural requirements. This is often a tough challenge because the life safety is of utmost importance, but the architectural integrity required for this iconic location was a driving force. In the end, both challenges were met, and the units had all the massive electrical requirements, data, communications and climate control requirements fulfilled as well.
At the historically symbolic height of 1776 feet, the 104 story, $3.9 Billion skyscraper is the tallest building in America, and arguably, the most secure. Renowned architect David Childs incorporated the most advanced security features in its design, including 3-foot thick reinforced concrete walls, extra-wide, pressurized stairwells, biological and chemical air filters, 400 closed-circuit surveillance cameras with live camera feeds monitored 24/7 by the NYPD, and a computer system with software that detects potential threats.
In keeping with One World Trade Center's exemplary design, B.I.G.'s new model, "Freedom Guard Shelter" meets stringent safety and security regulations while maintaining architectural congruity and harmony with its environment. In-house engineering and fabrication ensures this single-occupancy unit meets all current building codes.
Units are built to a high level ballistic performance with a type 316 stainless steel interior and exterior with bead-based stainless steel architectural accent. They are completed with stainless steel ballistic slide doors top hung from 3" diameter rigid steel ball bearing rollers in a custom tracking system with extra secure mortise locks, stainless steel floor system with commercial tile covering, stainless steel casework, acoustic tile drop ceiling with recessed LED lights and custom exterior LED spot lights.
A ductless split system HVAC with the condenser roof mounted behind the parapet is present. The roof is covered with stainless steel grip strut panels for visual upgrade, with interior radiant heaters recessed in the ceiling and detailed electrical to specifications.The "Freedom Guard Shelter" model is manufactured complete, ready for installation.
One World Trade Center sets new standards of design, construction and sustainability, and has attracted high profile tenants that include publishing giant Conde Nast, prestigious Vogue and Vanity Fair magazines and the Beijing Vantone Center.
There are 54 High-speed elevators, each protected within a central core structure and designed with "destination dispatch" software that greatly reduces wait and travel time by grouping passengers according to destination. The stairwells are interconnected and exit directly to the street. All the Life-safety systems far exceed New York building codes.
Through extensive collaborations with innovative technology and energy leaders, 1 WTC boasts the latest, most efficient methods of minimizing waste and pollution, conserving water, improving air quality and reducing environmental impact. Utilizing next generation energy sources as well as off-site renewable wind and hydro power, 1 WTC is safe and environmentally friendly.
New York Governor Andrew Cuomo calls it "a symbol of the enduring spirit of the city and state of New York" and Port Authority director Patrick Foye says the New York City skyline is "whole again".
"One World Trade Center's team chose B.I.G. Enterprises to design their guard shelters because they knew we'd match their innovative design, impeccable construction and masterful security. The result is the new, impressive "Freedom Guard Shelter". With both a sleek, understated aesthetic and top security features, this shelter not only thwarts potential threats but defines and enhances the image of this iconic building." - Vice President David King