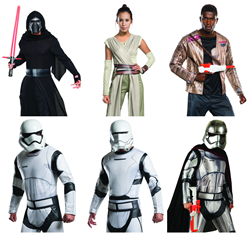 The focus this Halloween season will be on the new characters to the Star Wars franchise, as well as revisions on old favorites.
North Mankato, MN (PRWEB) September 03, 2015
Force Friday is here and Halloweencostumes.com is finally able to announce the worldwide release of a brand new line of costumes to coincide with Disney's Star Wars: The Force Awakens, the much-anticipated sequel to Return of the Jedi and the first Star Wars film in over 10 years.
As details surrounding The Force Awakens slowly trickle out, the biggest question on fans' minds is "When can I buy official costumes?" HalloweenCostumes.com is happy to offer customers a wide array of costumes, helmets, masks, and accessories that are exclusive to The Force Awakens. The focus this Halloween season will be on the new characters to the film franchise, as well as revisions on old favorites.
Kylo Ren, the mysterious, masked villain will undoubtedly be a top seller. His costume is available in both deluxe and budget versions for children and deluxe only for adults. Think Darth Vader but less machine and more man, with a classic Star Wars "bad guy" aesthetic. His strange (and hotly-debated) three-pronged lightsaber is also available to purchase separately. A visual homage to Darth Vader who came before him, Ren's metallic helmet is available in full deluxe and ½ helmet style. Check out the deluxe costume here.
New heroes Finn and Rey are also expected to be popular, with Rey appealing to the large female fanbase who have been clamoring for another strong, feminine character like Princess Leia Organa since the original trilogy. Rey's weapon of choice is a large and powerful staff; Finn's is a modified two-handed blaster. A denizen of the remote sand and wind-swept planet of Jakku, Rey's protective eye mask and hood can be purchased separately. Check out Finn's deluxe costume here and Rey's here.
Another new and mysterious villain is Phasma, a Captain who commands the First Order troopers. Clad in distinctive metallic armor with a flowing red and black cape, she is both beautiful and imposing. While we may not see her face, inside the armor is well-known Game of Thrones actress Gwendoline Christie, adding another intriguing element to the character. This costume will strike an impressive pose for adults and children alike. Her character-specific helmet and gloves are available to purchase separately. Check out her deluxe costume here.
What is Star Wars without the Stormtrooper? The elite soldiers of the Galactic Empire will return, refashioned and rebranded as First Order Stormtrooper and Flametrooper. Small tweaks to the design of the helmet and armor for these enforcers of the First Order give them a modern update while still retaining their instantly recognizable look. Products available include both adult and child deluxe costumes, as well as budget options. Accessories to pair with the costumes include the Stormtrooper blaster, Flametrooper gloves, and more. Full deluxe and ½ helmets can also be purchased separately. Check out the deluxe First Order Stormtrooper costume here and the Flametrooper here.
The popularity of Star Wars ensures that character costumes have longevity beyond just Halloween. With conventions and cosplay becoming more popular each year, these Force Awakens products are anticipated to fly off the virtual shelves. These costumes represent just the first batch of characters from the film that Disney is ready to reveal in depth. Look for more costumes and accessories to hit HalloweenCostumes.com around the Christmas holiday season. Check out our full list of Star Wars: The Force Awakens costumes and accessories here.
For more information on our Star Wars: The Force Awakens costumes check out our Force Friday post on the official Halloweencostumes.com blog.
About HalloweenCostumes.com
Based in North Mankato, Minnesota, HalloweenCostumes.com is a world leading retailer of costumes and accessories. With more exclusive styles and sizes added every day we can't guarantee your choice will be easy, but we can guarantee an exciting shopping experience that includes unequaled customer support and tools to ensure you find a costume that's your perfect fit!