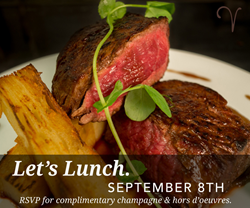 Vesper soon serving Exclusive Business lunch in Center City, Philadelphia.
Philadelphia, PA (PRWEB) September 03, 2015
To the Ladies and Gentleman of Philadelphia Who Lunch: Vesper (Center City Philadelphia), the talk of the town after opening a few months back, is finally extending its hours to include lunch, starting Sept 8, 2015. Since opening, Vesper has been constantly receiving inquiries from guests about when they will be open for lunch. While the Philly food and restaurant scene is growing more bountiful every year, there is still a shortage of options for fine business lunches, and Vesper has just answered this need.
On September 8, 2015 between 11am - 3:30pm patrons from Center City Philadelphia can experience Vesper's inaugural exclusive business lunch. Guests who RSVP will receive complimentary hor d'oeuvres and champagne.
Philadelphia, PA, August 27, 2015 - Starting September 8th, the sophisticated supper club Vesper opens its doors for a distinguished take on lunch. Conveniently located in center city Philadelphia, Vesper has attracted diners with their hand-crafted cocktails, live music, and an atmosphere suited for date nights or special occasions. Guests are now invited to treat themselves with Vesper's new lunch menu, offering a unique blend of lighter fare, innovative flavors, and afternoon-appropriate beverages. Vesper's concept behind their midday offerings is to keep the dishes simple and allow the fresh, seasonal ingredients to shine through. Along with a raw bar, lunch will feature soups, salads, and sandwiches elevated by Executive Chef Ken Wallace's meticulous and innovative cooking techniques.
Drawing on '40s sensibilities and style, Vesper views meals as an occasion and evenings out as an event. This sense of ceremony along with their warm, welcoming staff creates a unique environment for a meal that is often rushed and overlooked. The recently revitalized restaurant offers a spacious and refined dining area for a leisurely meal. Escape into Vesper's elegant oasis for a birthday lunch, client meeting, afternoon cocktail, or just a change to the typical routine. With fall approaching, now is the time to reserve a spot at Vesper's cozy bar and establish a 'regular' cocktail with their experienced bartenders. After Happy Hour, there's no need to venture out in the cold, with gourmet dinner items and nightly live music to enjoy late into the night.
RSVP to attend the debut of Vesper's lunch on Tuesday 9/8/15 between 11am - 3:30pm and receive complimentary champagne and hors d'oeuvres.
Opening Day Menu:
Please visit Vesper's website to check out the fresh and enticing opening day menu that will leave no desire unfulfilled. The exclusive menu, designed by Executive Chef Ken Wallace, includes the finest selection of raw bar items including oysters and mussels, completed with his elevated takes on lunch classics such as salads and burgers.
History:
Vesper was founded in 2015 by owners Brendan Smith (Smith's Bar and Restaurant, Milk House), Chuck Ercole (Misconduct Tavern), and John Barry (Smith's Bar and Restaurant) as a space for today's connoisseurs to enjoy a leisurely meal. Vesper is located in the heart of Center City at 223 Sydenham Street.
In its past life as a speakeasy, Philadelphia's brass would meet here in its underground cavern room to strike off-the-record deals. This history still resonates throughout the restaurant, recently revitalized into a refined hideaway in the heart of Center City.
Vesper will now be open for lunch from 11am to 3:30pm. The bar opens daily at 3:30pm and dinner service begins at 5pm with live music every night. Call 267-930-3813 or visit http://www.vesperphilly.com to RSVP for the inaugural day lunch banquet.