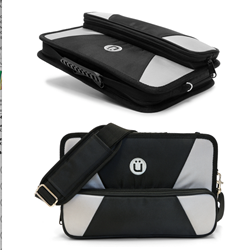 Innovative cooling Channel technology keeps the computer cool while in the bag.
Chicago, IL (PRWEB) September 09, 2015
Sunrise Hitek's popular rugged laptop bag is now available in a model for ASUS Chromebook C200, C201, and C300. The standout feature of this bag is the "always-in" design which means the laptop can be used without removing it from the case. Innovative cooling Channel technology keeps the computer cool while in the bag https://www.sunrisehitek.com/product/rugged-laptop-case. ASUS laptops are a frequent choice of schools and businesses because they are fast and affordable. The C200 is extremely lightweight and thin, making it very compact. The C200, C201 and C300 feature a 10 hour battery life and are powered by the latest energy-efficient Intel® Bay Trail-M processors and multi-finger gesture support.
In addition to the ASUS Chromebook C200, C201, and C300, Sunrise also has models to accommodate HP Chromebook 11.6", 14", 15-3040NR, the new Dell Chromebook 11 with 180-degree hinge, Latitude 13 Education Series (3340), the Inspirion 15, Acer C720 and C740, Chromebook 11, Chromebook 13, Chromebook 15, MacBook Air 11" and 13", MacBook Pro 13" and 15", Samsung Chromebook 2, Lenovo ThinkPad X140E, N20, N21, ThinkPad T440s, E550, Toshiba CB35-B3330, CB30-B3122, CB35-B3340 Chromebook, and Tecra C50. The 11" case measures 13"x9"x3"; and weighs 1.6 lbs. The 13" case measures 14"x10"x3"; and weighs 1.8 lbs.
About Sunrise Hitek
Sunrise Hitek's üuber store, formerly known as iGear, is a leading maker of protective gear for Apple's iPad. The brand changed to üuber when the company starting developing cases for other devices, such as the MacBook, Chromebook, and Samsung devices. Sunrise Hitek Group, LLC, owner of the üuber brand, also operates Sunrise Digital, a leading digital printing company based in Chicago. As a G7 Qualified Master Printer, Sunrise is uniquely qualified among protective gear makers to offer a wide array of customization options, ensuring the most consistent and accurate color reproduction. Sunrise is an Inc. 5000 company established in 1988 and employs the most advanced equipment and technology, such as G7-certified HP Indigo and UV flatbed presses, and digital die-cutting, to create best-in-class products. A privately-owned enterprise, the company is based in Chicago and sells products worldwide.