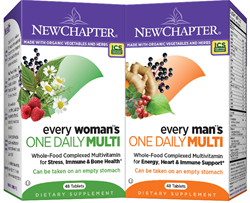 We are very excited to be able to offer these great One Daily vitamins on sale this month at 45% off the retail price!
(PRWEB) September 07, 2015
Most people would agree that taking a daily multivitamin is a good idea. It's often referred to as an "insurance policy" for covering nutritional gaps left by a less than optimal diet. New Chapter believes a daily multi can be much more than a nutrient backstop. Simply avoiding deficiency misses a major opportunity to promote wellness. The perfect whole-food cultured multivitamin can be a firm foundation for a complete nutrition program, delivering multiple benefits to support overall health and wellness.
In a recent publication, New Chapter stated, "New Chapter's formulation team, led by Founder, Formulator, and Master Herbalist Paul Schulick, sets each nutrient level in our multis while considering daily intake of that nutrient absorbed from food. This conscious and detailed review of each nutrient results in specialized multivitamin formulations that support vitality and wellness while honoring the first formulation philosophy of New Chapter: Do no harm."
"New Chapter One Daily Multivitamins are very popular with my customers because they offer very high quality whole food supplementation that is fermented and extremely bioavailable," said Gail Bowman, owner of Healthy Vitamins, an online health food store. "We are very excited to be able to offer these great vitamins on sale this month at 45% off the retail price!"
New Chapter's One Daily Multivitamins are Non GMO. New Chapter is a leading advocate of the Non-GMO movement in the supplement industry. These multivitamins are also certified organic and gluten free. In addition, New Chapter, uses sustainable business practices. Their Sustainability Department focuses on everything from making certain that they use the most energy-efficient lighting to the ethical sourcing of all raw materials. New Chapter uses supply partners that uphold a socially responsible and environmentally conscious supply chain.
For thousands of years, societies around the world have been fermenting foods with good bacteria to create gentle, cultured products such as yogurt, miso, and kefir. Fermented foods are broadly consumed today, and highly valued for their unique compounds. New Chapter brings the tradition of beneficial fermentation to their multivitamins, a culturing process that helps create dynamic whole foods. New Chapter's vitamins and minerals are individually cultured using proprietary recipes of organic yeast, live probiotics, and whole foods such as organic carrot, organic alfalfa, and organic orange peel to create whole-food cultured nutrients.
Each New Chapter multivitamin is an innovative blend of cultured whole-food vitamins and minerals, plus artisanal herbal therapeutic blends of targeted herbs, formulated to meet specific life stage needs.
Healthy Vitamins is an online health food store that focuses on whole food nutritional supplements. Gail Bowman is the Owner of Healthy Vitamins and can be reached at 888-244-8948.