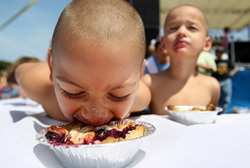 Toms River, New Jersey (PRWEB) September 03, 2015
Before Surf & Stream Campground says "goodbye" to another fun camping season, guests can still look forward to an exciting Labor Day Weekend including food, music, games and more. Read on for a complete schedule of events for the three day weekend.
On Saturday, September 5th, kids can enjoy making holiday themed crafts before the annual Labor Day Barbecue kicks off at 6:00 pm accompanied with entertainment by DJ Joe and hayrides around the campground. Rise and shine on Sunday, September 6th to a delicious pancake breakfast prepared by Pancake Paula. The fun continues with bingo and another round of music by DJ Joe and hayrides leading up to the second annual Pie Eating Contest.
Campers are encouraged to take lots of pictures showcasing the final days of the season and post to Surf & Stream Campground's Facebook page https://www.facebook.com/SurfCampground. Photos posted may be incorporated into the September issue of the Campground Newsletter, which will be the last newsletter of the 2015 season. For more information, visit the calendar of events on Surf & Stream Campground's website, http://surfnstream.com/.
About Surf and Stream Campground
Surf & Stream Campground is a family-friendly RV park located near all of the most popular beaches at the Jersey Shore. The campground includes a full-size swimming pool, picnic area, activities for all ages, weekend events and more. For more information about Surf & Stream Campground, visit their website at http://www.surfnstream.com or call 732.349.8919.