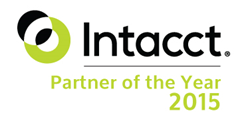 Marcus has built a solid team at AcctTwo, and I congratulate them on behalf of Intacct.
Houston, TX and San Jose, CA (PRWEB) October 05, 2015
After achieving Intacct's President's Club for the fourth consecutive year, AcctTwo Shared Services has been named 2015 Intacct Business Partner of the Year for the second year in a row. AcctTwo was recognized for its outstanding practice growth, deep product mastery, high levels of customer satisfaction and customer renewals, and extensive engagement with Intacct's channel team.
"We're honored to repeat as Partner of the Year," said Marcus Wagner, founder and CEO at AcctTwo. "As a result of our partnership with Intacct, we've been able to leverage the industry-leading ERP application to help our clients transform their finance and accounting departments and add strategic value to their businesses. We're very grateful to work with such a powerful product and the industry-leading partner program."
Intacct now boasts a network of more than 350 firms that deliver comprehensive, high quality services, support, and software to help companies get maximum value from their Intacct investment. The company has attracted the cream of the crop to its program, boasting 28 of the Top 100 CPA firms and 26 of the Top 100 VARs in the industry – the most of any cloud ERP vendor.
Since joining the program, AcctTwo has proven to be one of the fastest growing and most productive partners in the channel, establishing extensive product knowledge and building a strong practice based on extremely high customer satisfaction, with clients in more than 30 states and a growing international presence. The firm has shown versatility in implementing and supporting Intacct across a variety of industries, as well as developing comprehensive industry-specific vertical solutions in the Software & Technology, Energy & Industrial, and Non-Profit industries.
"AcctTwo has differentiated themselves with an elite cloud financials practice, including a proven implementation methodology, a culture of continuous improvement and innovation, deep industry expertise, and a net promoter score averaging 9 out of 10 for customers surveyed after completion of their implementation projects," said Taylor Macdonald, Vice President of Channels for Intacct. "Marcus has built a solid team at AcctTwo and I congratulate the entire team and look forward to continuing our partnership to make our customers successful as they accelerate their transition to the cloud."
AcctTwo's rapid growth hasn't gone unnoticed outside the Intacct Partner Channel either. The firm was recently named #11 on the Houston Business Journal's Fast 100, a list of the fastest-growing private companies headquartered in the Houston area. The Fast 100 companies come from a wide array of industries, from real estate and professional services to health care and technology. Companies are ranked based on two-year revenue growth between 2012 and 2014.
"It's a great honor for our team at AcctTwo to be included with such a prestigious and successful group of companies in the Fast 100 list," said Wagner. "The business community in Houston is strong and supportive of each other, and we are proud to call it home to our business."
Additional resources:

About AcctTwo:
AcctTwo is a leading consulting firm and reseller of cloud-based accounting and ERP software. Our sophisticated systems solve the issues growing middle market companies face today. AcctTwo also outsources back office processes, allowing clients to focus on the core competencies of their business. We provide the people, processes, technology, and office facilities to perform these functions, while allowing clients to collaborate interactively through an on-line portal.
AcctTwo is headquartered in Houston, Texas. For more information, please visit http://www.accttwo.com or call 713-744-8400.
About Intacct:
Intacct is a leading provider of best-in-class cloud ERP software. Bringing cloud computing to finance and accounting, Intacct's award-winning applications are the preferred financial applications for AICPA business solutions. In use by more than 9,000 organizations from startups to public companies, Intacct is designed to improve company performance and make finance more productive. Hundreds of leading CPA firms and Value Added Resellers also offer Intacct to their clients. The Intacct system includes accounting, cash management, purchasing, vendor management, financial consolidation, revenue recognition, project accounting, fund accounting, inventory management, and financial reporting applications, all delivered over the Internet via cloud computing. Intacct is headquartered in San Jose, California. For more information, please visit http://www.intacct.com.
Contacts:
Peter Wagner
Director of Marketing
Cell: 512.415.6846
Email: pwagner(at)accttwo.com
Chris Wailes
VP, National Media Relations
Pierpont Communications
Direct: 713.627.2223
Email: cwailes(at)piercom.com