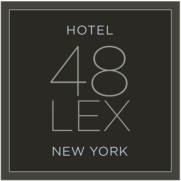 "The best part of Hotel 48LEX New York is how it feels – peaceful, seductive and welcoming. There is plenty of activity outside in this Midtown Manhattan neighborhood, but inside the hotel offers a bespoke, residential calm,"
New York, NY (PRWEB) September 03, 2015
Hotel 48LEX New York, launched as the Hyatt 48 Lex in 2011, has debuted as an independent, lifestyle hotel, offering sublime service in a discreet, modern environment in Midtown Manhattan. The full-service, luxury hotel is intimate and differentiates itself from its larger, traditional hotel neighbors in Midtown East. The hotel is renowned for its sophisticated and inspired "pied-a-terre" style rooms with a distinctively welcoming atmosphere and unprecedented service excellence.
"The best part of Hotel 48LEX New York is how it feels – peaceful, seductive and welcoming. There is plenty of activity outside in this Midtown Manhattan neighborhood, but inside the hotel offers a bespoke, residential calm," said Robert Gormley, General Manager of Hotel 48LEX. "We have become a vital part of Midtown East's fabric, both for business and leisure clients, who embrace our design aesthetic, style and service levels. As the hotel matures, we are excited to bring the classic and sophisticated experience to our existing discerning travelers and invite new guests to experience our refreshed property."
Located on 48th Street and Lexington Avenue, Hotel 48LEX New York was designed by renowned architect Nobutaka Ashihara, with interior design by Paul Vega and Vennie Lau of VLDG. The hotel features 116 bedrooms, including one bedroom suites and terrace studios, along with two penthouses featuring large outdoor terraces for entertaining or a quiet moment above the fray. All bedrooms are well proportioned with luxurious finishes and floor-to-ceiling windows. The hotel's stylish lobby leads guests to an inviting, intimate second floor lounge, where guests can enjoy offerings and treats throughout the day or relax as if the space was their own living room.
For private business meetings, four boardrooms are adjacent to the lounge. Each executive meeting room features natural light and can accommodate 12 people comfortably around large conference tables or customized seating plans. Each boardroom is styled with Herman Miller chairs equipped with the latest audio and video conferencing technology, including high definition flat panel TVs, connectivity panels in breakable boardroom tables, integrated audio/video controls, plus a wireless Crestron system that controls all multimedia, including the room's lights and drapes.
Hotel 48LEX New York's restaurant, Lexington Brass, the American brasserie, is a Midtown East dining staple, and will continue to serve hotel guests as well as the local cosmopolitan crowd. Focused on bringing high-quality dishes to diners in search of an authentic New York experience, Lexington Brass uses only the finest, locally sourced ingredients from some of the region's most trusted purveyors. The bustling, 100-seat restaurant combines organic, nutrient-rich proteins and fresh, seasonal produce to create a menu of hearty and flavorful dishes.
"The new Hotel 48LEX New York remains committed to delivering exceptional service," Gormley said. "We will continue to provide refreshing experiences, build strong relationships, and exceed our guests' expectations."
For more information on rates or to make reservations, call 212.888.3500 or visit http://www.hotel48lexnewyork.com.
About Hotel 48LEX New York
Hotel 48LEX New York is situated at the corner of 48th Street and Lexington Avenue in Midtown Manhattan. The hotel, known for its outstanding service and well-appointed bedrooms, is a perfect oasis for sophisticated guests looking for a discreet, residential atmosphere. The 116 bedrooms, suites and two penthouses offer spectacular views, natural light and soothing surroundings. The nicely proportioned rooms- with luxurious finishes and details, over stuffed beds, signature bath amenities, complimentary WIFI, and unique butler pantries - provide guests with everything they desire for a memorable stay. The four Meeting Rooms on the hotel's second floor offer state-of-the-art audio and video equipment as well as flexible room layouts allowing for customized events. On the second floor lounge, guests can enjoy a complimentary bite in the morning with coffees, teas and juices.In the evening, the lights are dimmed, candles are lit and the mood is mellow – just right for a glass of wine or spirit with savory snacks. The Fitness Rooms on the lower level offer both cardio and strength equipment 24 hours daily. Hotel 48LEX New York is refreshingly new again.