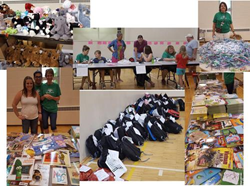 When it comes to delivering on a commitment, Orchard Place volunteers, individual donors and supportive businesses make it happen.
Des Moines, IA (PRWEB) September 03, 2015
Thanks to the generosity of individuals and local businesses, Orchard Place was able to provide a backpack full of school supplies to 415 students this month. For many families, the cost of school supplies hits their budgets hard. For struggling families, buying an extensive list of required school supplies can mean cutting the food budget or some other necessity. A recent survey estimated that school supplies will cost an average of $580 for an elementary school student and $690 per child in middle and high school.
"Knowing there would be an increased demand this year, we started in July," said Brandie Broadhead, Orchard Place Director of Volunteers. "We originally planned to fill 300 customized backpacks, but the number of request quickly grew to more than 400."
Twenty-seven volunteers worked 4 days to fill backpacks. Groups included: Continental Western Group, ITA Group, Kohl's Jordan Creek and individual volunteers. This year families had an option to pick up school supplies early. A 'Backpack Rally' was held at the Orchard Place PACE location. Twelve volunteers from the Orchard Place Integrated Health Program helped facilitate backpack pickup for 98 families during the Rally.
Once individuals, community organizations and businesses learned of the need, they responded. Each backpack was filled with supplies to match the child's specific grade level. The Orchard Place School Supply Drive is one of only a handful that provide a customized package of supplies based on the child's school list.
Support this year came from a wide range of business and civic groups including:
Blueprint Strategies
Celebration Christian Center
CGC Administrators
Continental Western Group
Des Moines Truck Brokers Inc.
Great Western Bank (2 locations)
Hubbell Realty Company
IES Communications
I-Smile
ITA Group
Italian American Society
Josephs Jewelers
Kohls – Ankeny, Clive, Jordan Creek and Merle Hay
Lightedge Solutions
Marsh
State of Iowa Treasurer's Office
Stroh Corporation
Submittal Exchange
US Bank (All 15 branches)
In-kind contributions were boosted with cash contributions of more than $6,000 which was used to purchase additional school supplies for the children.
"We are so fortunate to have such great volunteers and donors," added Broadhead. "Not only did they bring supplies, they helped stuff backpacks. With the number of children we were supporting this year it was not a small task. They really went above and beyond this year. "When it comes to delivering on a commitment, Orchard Place volunteers, individuals and outstanding local businesses work hard to make things happen."
The Orchard Place School Supply Drive is yet another demonstration of how kindness and generosity can have a profound impact on the lives of children. We extend our deepest gratitude to all who helped.
About Orchard Place:
Orchard Place works with children, youth and their families who experience mental health and behavioral conditions. Our inpatient, outpatient and community programs annually serve more than 10,000 children from birth to age 22. Four operating divisions are included in the Orchard Place umbrella of services: Child Guidance Center, Orchard Place Campus, PACE Juvenile Center and the Integrated Health Program. More information can be found at http://www.orchardplace.org.