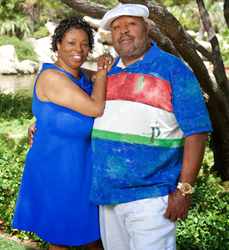 Do me a favor: hug your children for me. That might be the last hug you give them.
(PRWEB) September 10, 2015
The events of September 11, 2001 affected every corner of the United States, bringing the nation's inhabitants together in the face of such tragic loss. One of those lost was a bright, articulate girl named Asia Cottom, who had been chosen for a National Geographic field trip to the Channel Islands National Marine Sanctuary in Santa Barbara, CA. She was on flight 77 with two other DC public school students when the plane crashed into the Pentagon. Now, her scholastic prowess lives on through a scholarship fund established in her name.
The Cottoms have now come to a place in their lives where they're able to talk about Asia's beautiful life, their loss, and how to find peace in the midst of it all. They've penned this wisdom into a book honoring their late daughter- Asia's New Wings: The Untold Story of a Young Girl Lost on 9/11. In Asia's New Wings, Clifton and Dr. Michelle Cottom, along with family and friends, walk beside readers, sharing their thoughts and offering compassion to help others come to a place of acceptance, when trying to make sense of suffering great loss. The people in this book have learned to come to terms with what God allows, and are now in a place where they can help others heal. Whomever has gone—or is going through—the "valley of despair," will find comfort and empathy from those who care. Readers will also find hope and the strength to move forward and rediscover their lives.
Clifton and Michelle Cottom are hosting a series of events to benefit the The Asia SiVon Cottom Memorial Scholarship Fund (ASC) created in their daughter's honor. The fund's overall mission is to recognize and assist college students by providing financial assistance through scholarship awards to supplement financial obligations for tuition and educational fees. Scholarship awards will be given to deserving students who have excelled academically with special consideration given to students interested in math, science, and information technology.
Brunch and Book Signing
When: Friday September 11th 8am-11am
Where: NextDoor Restaurant and Bar 1211 U St. NW Washington, DC
Who: Authors Clifton and Michelle Cottom
9/11 Memorial Scholarship Fundraiser- Friday September 11th,2015
When: 10pm-2am
Where: The Gold Room 8600 Glenarden Parkway
Glenarden, MD 20706
Silent Auction/Lite Fare
Tickets $25
Contact Clifton Cottom 202-905-5670, Darrel 202-308-2978, or Michelle Cottom 202-253-8506 for ticket purchases
Asia S. Cottom Memorial Bike Ride
10k Bike Ride Fundraiser
September 12th, 2015
Route: East Potomac Park to Pentagon 9/11 Memorial
Registration Fee $25
Deadline September 7th
Riders will receive a commemorative ASC backpack, ASC water bottle and beverages
Please submit your payment at http://www.asiacottom.com/contributions and choose donate
For Questions call 202-905-5670
About Asia Cottom:
Asia Cottom was only 11 years old when she was lost during the September 11 terrorist attacks, but her death inspired many to embrace her belief in hope and positive thinking. Her parents have now released a new book through Next Century Publishing, Asia's New Wings, that tells her story.
About Clifton and Michelle Cottom, Ph.D.
Clifton and Michelle Cottom live in Prince George's County, Maryland and they have one son, Isiah. The Cottoms are the co-founders and executive board members of the Asia SiVon Cottom (ASC) Memorial Scholarship Fund.