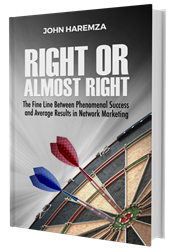 No matter how good you are or how hard you work, unless all 5 elements are in place you're going to struggle. You won't make the money or achieve the level of success you hoped for.
(PRWEB) September 09, 2015
Master Networker, John Haremza, is giving away free tickets to the sold out Las Vegas Go Pro Recruiting Mastery event. Last year, the Las Vegas Go Pro Recruiting Mastery event brought in over 8,000 attendees. This year, 10,000 are registered and this marks the event as being 'sold out'. However, when someone pre-orders ten copies of Haremza's new book, 'Right or Almost Right', they will be entered in a drawing and, if their name is selected, will receive a ticket to this sold out event. In addition to this, they will be mailed an audio CD from John to go in tandem with his book, as well as a copy of "The Greatest Prospector in the World" by author Ken Dunn, and Ken's audio book titled 'How to Make Prospecting Second Nature'. Those interested in participating can order their copies of 'Right or Almost Right', and email media(at)nextcenturypublishing(dot)com with a screenshot of their receipt, pre-orders can be placed here: http://amzn.to/1hmiacr. This promotion will run from now until the launch of his book on December 8th, 2015.
In 'Right or Almost Right', John expresses his belief that the small subtleties of how the network marketing business is done make the big difference between making a little money versus making a lot of money, between success and struggling. He teaches the basics of network marketing so people understand exactly what it takes to build their career from the foundation, proving with his own life that amazing results really are possible. Everything contained within the book relates to John's own experience over his 25 year career of success as a network marketer. Readers can really rely on all of the information in the book as John himself is living proof that network marketing can change someone's life and give them everything that will make their dreams come true.
Author and CEO, Ken Dunn's newest book, 'The Greatest Prospector in the World' takes place in rustic Alaska during the early 1900s. Fourteen-year-old Laura Dunagan loves her life of prospecting for gold with her dad, William "Billy" Dunagan. Then tragedy strikes. While Laura is in school, her father is killed in a rockslide while prospecting by himself. At the funeral, her estranged and despised Uncle Joe suddenly appears to give the closing words. Things quickly worsen at the grave site, when he announces to Laura that she will be moving with him—to Chicago! The fictional story of the Dunagan family will inspire you to take a closer look at how you approach your business. Prospecting, identifying, and engaging with new customers is something that sales people must do daily. The vast majority do not do so correctly. Those in the minority can become the Greatest Prospectors In The World—if they follow Uncle Joe's secrets.
John Haremza:
From a young age, John Haremza struggled in school due to his dyslexia, which at the time meant that he was perceived as slow, dumb, and stupid. He was put in special classes and made fun of, lowering his self-esteem and believing that he would never be very successful in his life. He began working a maintenance job in a potato chip factory, believing that was the best that he could do. However, once he discovered network marketing, John quickly rose through the corporate ranks and found that he truly had a knack for business. Now he is living the life of his dreams, a successful and well-known network marketing leader. He believes that everyone can find this success in their own lives, that everyone can build themselves from the ground up, just as he did.
Ken Dunn:
Dating back to his days serving in the police force, Ken Dunn has always been a leader. In the business world, his astute leadership became the guiding force behind four very successful companies. His great love for books, and the people who write and read them, led to his new vocation as the Founder and CEO of http://www.ReadersLegacy.com. He is also the bestselling author of: Being the Change, The Most Important Minute and Learn How To Write A Book In 2 Hours.