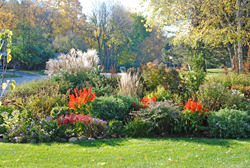 Gardeners, myself included, are often determined to take advantage of every nice day before winter hits, so they tend to squeeze as much gardening as possible into any available day or weekend.
Milwaukee, WI (PRWEB) September 03, 2015
As summer turns to fall, the days grow shorter, but the list of garden chores does not. Gardeners continue weeding garden beds, tending the lawn, taking care of flowers and plants and harvesting vegetables. Add to this the planting of trees, shrubs, flowers and bulbs, and, of course, preparing for the winter ahead, and it can be a pretty exhausting and sometimes pain-inducing project.
"Gardeners, myself included, are often determined to take advantage of every nice day before winter hits, squeezing as much gardening as possible into any available day or weekend," says Melinda Myers, host of The Great Courses "How to Grow Anything" DVD series. "It's grab a cup of coffee, head out the door at dawn and don't stop until it is too dark to see or you're too stiff to move."
With September being Pain Awareness Month, it's a reminder to gardeners to take care of themselves – and not just the garden – this fall with some simple strategies and gardening tips designed to help gardeners manage their landscape as pain-free as possible.

Continue watering plants thoroughly and as needed throughout the fall until the ground freezes. Pay special attention to new plantings, evergreens, moisture-loving and stressed plants. And be sure to keep hydrated when planting, raking and caring for the landscape. With fall's cooler temperatures, it's easy to forget the water – for both the plants and gardener.
Reduce the workload and lower back pain by mowing instead of raking fall leaves. As long as grass blades can be seen through the shredded leaves, they can be left on the lawn to add nutrients and organic matter to the soil. If there are too many leaves, simply mow, bag and use them as mulch on the soil around existing plants or add them to the compost pile. If using a push mower, gardeners should keep their back and wrists as straight as possible. "Keeping the mower close and pushing with your legs rather than your back and arms will also help," explained Myers. "Don't bend forward, since this puts more pressure on your back."
If opting to rake instead of mow the leaves, use a rake that's the appropriate height and weight. Otherwise, gardeners may find themselves hunching over, causing strain to their back. Stand as straight as possible with knees bent. And switch sides often to avoid muscle strain.
Give the lawn one last feeding for the season. Apply a low-nitrogen fertilizer in mid to late October to encourage deeply rooted, healthy lawns that are less susceptible to insect and disease problems and better able to outcompete the weeds.
Take advantage of fall vegetables from the garden and local farmers' markets. Include anti-inflammatory vegetables like sweet potatoes and pumpkins, cancer-fighting members of the cabbage family like kale and broccoli, and, of course, nutritious and tasty tomatoes.
Let insect- and disease-free perennials stand for winter. Not only does it add texture and movement to the winter garden, but the birds will enjoy the seeds and many beneficial insects will use the plants for their winter homes. Cut them back in late winter or early spring when feeling anxious to garden, but it's too early to do much else. Plus, breaking garden care into smaller tasks throughout the year can help avoid the muscle strain that often occurs when trying to cram every task into one weekend.
Take advantage of fall plant sales and the pleasant planting weather to add trees, shrubs and perennials to the landscape. Don't forget to add a few bulbs for some added color next spring. These fall additions will suffer less transplant shock and establish more quickly in the warm soil and cooler fall temperatures. Reduce the strain on muscles by using the proper tools when digging and planting. Gardeners should use a long-handled shovel, avoid twisting and be sure to lift with their knees. For smaller jobs where it's necessary to kneel in the garden, utilize a padded kneeler or knee pad. And use hand tools with large cushioned grips to reduce hand strain.
Utilize free resources like the Weed Out the Pain Fall Garden & Landscape Toolkit from Advanced Pain Management, which provides seasonal gardening ideas and projects for beautifying the landscape, along with ways to accomplish each without unnecessary pain.
Don't forget to stop and appreciate the beauty of the garden. Frequent breaks not only help reduce muscle strain, but are also good for a person's mind and spirit. People that take time to appreciate a garden's beauty benefit greatly from lower blood pressure, less stress-related muscle tension, elevated moods and less anger.
So this year, while completing that gardening task list, consider taking some extra time and safety measures in order to fully maximize and enjoy the fall gardening experience.