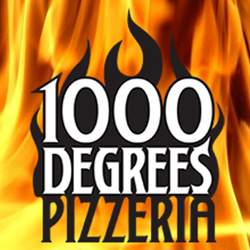 The best authentic hand-tossed Neapolitan Pizza anywhere
Livonia, Michigan (PRWEB) September 03, 2015
1000 Degrees Neapolitan Pizza, a fast-casual spin on authentic, hand-tossed Neapolitan Pizza is coming to Livonia Marketplace, located in Livonia, Michigan.
1000 Degrees Pizza, a New Jersey based fast-casual pizzeria concept has a unique spin on Authentic, Hand-tossed Neapolitan Pizza and it's catching on like wild fire. On the heels of very successful restaurant openings throughout New Jersey, Livonia, Michigan is just few months away from authentic, hand-tossed "create your own" style Neapolitan Pizza. The Livonia restaurant is set to be the 6th of 22 franchised locations to open in the state over the next 18 months.
Located in the Livonia Marketplace, a Lormax Stern property adjacent to Verizon Wireless store in front of Kohl's and Walmart, the 1000 Degrees Pizza brand plans on opening the restaurant in December 2015. With oven temperatures over 1000 degrees, fresh, thin and crispy Neapolitan Pizza fused with a "create your own" spin, fired to perfection in just 2 minutes, is just a few months away.
"1000 Degrees is extremely excited to continue development across the state of Michigan, and bring the residents of Livonia the finest authentic, hand-tossed Neapolitan Pizza they have ever tasted along with fire roasted wings, fantastic menu or build you own salads, shakes and soft serve gelato. Walk down the assembly line, choose from over 50 toppings to build your perfect pizza, and by the time you pay and get a beverage, the pizzas are finished. The pizza will be thin, crispy, and have one of the most flavorful crusts you will have ever eaten, made from real Tipo 00 Flour," said Karly Sanko, public relations representative for 1000 Degrees Neapolitan Pizzeria, a New Jersey based fast casual pizza franchise. "With a true 2 minute cook time, thousands of possible combinations of the finest cheeses & meats, as well as the freshest veggies available, 1000 Degrees is becoming an every-day pizza spot, serving just about 50% of patrons at lunch and 50% at dinner," she added.
About 1000 Degrees Neapolitan Pizzeria: 1000 Degrees Neapolitan Pizza franchise has experienced unparalleled growth as of late, and is on target to have over 80 units open by the end of 2016, and over 170 units projected by 2017. The 1000 Degrees Pizza brand continues to focus on having the finest hand-tossed Neapolitan pizza in each market in which they enter. For more information on the 1000 Degrees Pizza brand, or for franchise or investor relations, please visit the company website at http://www.1000DegreesPizza.com.