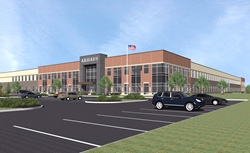 "The timing is particularly poignant to me as we will move into this new facility in 2016, our 30th anniversary year," says John Reed, chief executive officer and chairman of the company.
Cleveland, Ohio (PRWEB) September 03, 2015
The new headquarters—offices, distribution center and warehouse—for Arhaus is officially "under construction" at 51 East Hines Hill Road in the Village of Boston Heights and progressing on schedule for a March 2016 move-in date. The new facility, 770,000 total square feet, will nearly triple the size of the retailer's current warehouse in Walton Hills, located at 7700 Northfield Road, and double the existing office space.
"This is truly a monumental milestone not only for the business, but for me personally. My vision has always been to expand Arhaus into a nationally coveted brand. We continue to delight customers in existing and new markets and this new facility will help us continue to grow and continue to provide our customers with the best quality home furnishings to enhance their homes and lives. The timing is particularly poignant to me as we will move into this new facility in 2016, our 30th anniversary year," says John Reed, chief executive officer and chairman of the company.
He and his father, Jack, started the Cleveland-based business in 1986. The first store was in an old historic warehouse space on Cleveland's East Bank of the Flats and today the company has grown into a national brand with 57 store locations in 23 states, as well as a growing e-commerce presence.
The new company headquarters will be the length of approximately four football fields and the width of two. The facility will house the company's growing product assortment and staff of nearly 400 here in Northeast Ohio. The retailer employs 1,140 across the country. "We continue to add new categories and expand our offerings within existing categories in order to respond to our customer's growing home furnishing needs," says Greg Teed, chief financial offer, who is also spearheading the project in Boston Heights.
The Hines Hill Road building will consist of 650,000 square feet of warehouse space and 120,000 square feet of dedicated office space. The atrium of the building will feature a 15,000 square foot mock store for internal planning purposes only—no furniture will be sold out of this location. It will be used to support new and existing stores by allowing the retailer's product development and merchandising teams to stage and test new items, merchandising plans and display ideas.
Other valuable expansions will include a more sizeable sample room to support Arhaus' growing product development needs, an expanded photography studio to be able to manage the increasing load of new products being brought to market and a commercial grade kitchen for team members to dine together without having to leave the facility.
Gary Babcock, the retailer's chief creative officer, is designing the interior office space and the main entrance of the building, which will be modeled after the theatrical store environments he creates across the country leveraging artisanal inspirations from around the world.
The exterior features a combination of precast panels, brick and high-efficiency glass. While the building's roof system is considered "industry standard", Arhaus is planning to add a solar panel system—about 100,000 square feet—to power the building during peak summer months. "We're an environmentally-conscious company and always have been," says Teed. The company was one of the first in its industry to follow environmentally sustainable manufacturing practices with its Rainforest Policy—vowing to never build furniture of wood from endangered rainforests. This policy dates back to its founding year. The company also uses many other recycled materials in its products from copper to glass to reclaimed wood.
"We're proud of the energy efficiencies we will be able to realize in the new facility," says Teed. The building also includes 75 solar tubes strategically placed throughout. "These tubes help from an energy standpoint, but also allow natural light in if there's ever an outage," he says.
The lighting plan throughout the building also calls for LED bulbs. And in the warehouse specifically, lighting in inventory aisles is motion sensor controlled—another energy saver.
Somewhat of a flex design overall, the new Arhaus world headquarters has room for "growth". Roughly 22,500 square feet on the second level mezzanine could become office spaces if needed and the warehouse can be expanded off of the south side of the structure.
Target move in dates are scheduled to begin in the spring; pending construction remains on schedule. The plan is to move in phases with the warehouse taking the lead as early as January, followed by inventory employees and then office staff.
The big move follows the opening of eight new stores this year [2015]: Sarasota, Fla.; Leawood, Kan.; New Orleans, La.; Scottsdale, Ariz.; Torrance, Calif. (marking the 1st location in the state); Hilliard, Ohio; Phoenix, Ariz.; and Manhasset, NY. The Cleveland-based company will finish the year with 61 store locations in the U.S. In 2016, the retailer will continue with its current pace of new store openings.
"We'll have a lot to celebrate in the New Year," says Reed, "with a beautiful new world headquarters here in Northeast Ohio and continued store expansions across the country all culminating at our 30 year anniversary."
It was in 2014 that Arhaus inked the deal with the Village of Boston Heights to relocate from Walton Hills to the 64 acres formerly occupied by Boston Mills Country Club. In Walton Hills, a near 240,000 square foot facility currently houses both Arhaus offices and furnishings (206,255 sq. ft. warehouse/32,542 sq. ft. office/mezzanine); Arhaus has been headquartered here since 1993.
The company also leases two additional buildings for warehouse purposes only: one next door to its headquarters currently in Walton Hills which is 48,000 square feet and another in Green, Ohio, that is 245,000 square feet.
Arhaus is working with Davison Smith Certo Architects on the project and Premier Development Partners. In all, the building will require 18,000 yards of concrete, 2,405 tons of steel, 3,355 tons of precast panels and 26,150 tons of stone.
The estimated cost is expected to exceed $40 million.
###
Arhaus: Arhaus offers a compelling, inspiration-filled environment—stores average 16,000+ sq. ft.—with one-of-a-kind handcrafted home furnishings reflective of a distinct global point-of-view. Arhaus collaborates with skilled artisans here in the states and all over the world who craft its many exclusive collections, which are complemented by timeless upholstered pieces (slipcovered, leather and custom-order seating), dining tables and chairs, bedroom, outdoor and office furniture, seasonally-inspired accessories, private label bedding, throws and accents, tableware and more. Made of the world's finest materials (with attention to sustainability), products are presented in dramatic lifestyle settings infused with original architectural elements imported from Parisian flea markets and Tuscan villas, hand-painted murals, Arhaus Revivals, or repurposed antiques, and the freshest botanicals sourced locally in each store market. Arhaus is privately-owned and operated. The national home furnishings retailer was founded in 1986 by father and son, Jack and John Reed, and is headquartered in Cleveland. For more information, call 866.427.4287 or visit arhaus.com.
"Furnishing a better world." This is our philosophy; it dates back to 1986 when father and son, Jack and John Reed, opened the first store location in Cleveland and vowed never to use wood from the world's endangered rainforests in the making of an Arhaus design. Today, nearly 50 percent of our collections are made of recycled material—everything from glass, to metals like copper and wood cast off from far off lands. To ensure our values are upheld, we work with artisans who share our earth conscious values and use renewable and recycled materials when crafting pieces for our stores. Sustainably sourced timbers like teak, bamboo and mango—grown for the sole purpose of building—are used. And because we love a good story, we use reclaimed materials whenever possible, namely wood from countries tearing down dilapidated barns, shipyards and rural structures, and we refurbish one-of-a-kind antiques—we call these pieces Relics. To further minimize our impact on the environment, our stores, corporate offices and even delivery trucks operate at maximum energy efficiency and promotional pieces are printed using soy-based ink and on recycled paper.