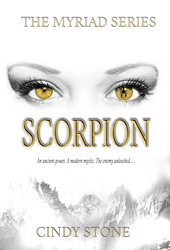 Rebel Press is pleased to add such a talented and creative writer to our library of groundbreaking fiction authors producing tomorrow's bestsellers.
(PRWEB) September 09, 2015
Stone's 'Scorpion' is book one in her 'Myriad Series'. The book is a young adult adventure/romance novel that will be released in 2016. According to her website http://cindystoneauthor.com/ book two is already in development. Rebel Press is ecstatic to add Cindy Stone to their family of talented Rebel authors. Her book 'Scorpion' will be the first Young Adult Fiction novel in their collection.
About 'Scorpion': The day began as any other for Avery, the disillusioned and beautiful daughter of one of New York's wealthiest and most powerful men, without even a hint that she was about to tumble into a bizarre and mysterious series of events which would forever change her destiny. Tired of New York City after a few weeks visit, and craving to return to the Wu Dang mountain monastery and his lifelong teacher Monk Wao, martial arts expert Aiden Kane is thrust into a situation that will test his incredible skills to the utmost…and his capacity for love Using the dark power of a ten-thousand-year old spell, Master Zheng will stop at nothing to claim possession of what he desires- first the sacred stones, rumored to have been forged from the orange-red dust of a long past star, then the girl whose soul he craves to possess, and finally domination of the world's oldest secret society which has now permeated so many world organizations.
A seasoned writer, Stone's first non-fiction book, The Incidental Guru; Lessons in Healing from a Dog (Stewart House, 2002--hardcover) (Fitzhenry & Whiteside, 2004—trade paperback) detailed the transformational journey in her relationship with her dog Harry, a seemingly unredeemable, aggressive street mutt. That was when she coined the process of The Four Elements of Healing: Courage, Trust, Respect and Love, as a simple yet powerfully profound paradigm for positive change. In 2000, Cindy co-wrote the Indie-award-winning screenplay for "Expecting," an independent film directed by Deborah Day. Her other publishing credits include a short story in an anthology, several chapters in Leadership and self-help anthologies, as well as numerous freelance articles. Currently Cindy has completed Book ONE, Scorpion, the Adventure/Romance/Mystical/Martial Arts/Conspiracy form The Myriad Series, to be released later this year; Book two is in development.
Cindy Stone:
Cindy Stone is an author, psychotherapist/hypnotherapist, and Reiki Master. She is an advanced student of Baguaquan, and the internal martial arts. As a psychotherapist with training in Art Therapy, Gestalt Therapy and Ericksonian hypnotherapy, with over 25 years of experience, Cindy has been fascinated with transformational journeys and the incredible power of the mind.
In 2006, Cindy co-founded AguaPorVida/WaterForLife Foundation, a charity whose mission brings sustainable development to three remote villages in Nicaragua with limited access to clean water and education. The Foundation equipped a satellite hospital, filled three schools with educational supplies, purchased new musical instruments for the arts program, and built a 12 kilometer pipeline to bring fresh water to these communities while providing valuable vocational training.
Rebel Press:
Rebel Press is a trade publisher that specializes in, and only accepts submissions in, fiction genres. Every work will be reviewed and responded to. Advances are consistent with industry norms; however, The Rebels that are accepted into this family will enjoy a full 50% of net royalties on their work, as opposed to the 10-15% they have been forced to accept in the past from traditional publishing houses.
To contact Rebel Press visit: http://rebelpress.com/ or call (702)912-2405