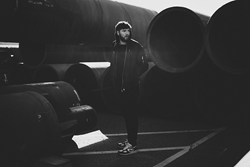 New York, NY (PRWEB) September 03, 2015
Twenty one year old Lucas Nord is a rising star within the Swedish house music scene. Already achieving success in his native land for his previous singles, Nord has also made an impression within the EDM scene with his remixes for acts such as Adrian Lux, Loreen, Rasmus Faber, and Crystal Fighters.
Nord's upcoming release, "Run On Love," features the powerful vocals of Swedish singer-songwriter Tove Lo, who emerged into the American music scene with hits such as "Habits" and "Talking Bodies." This release includes an exclusive US remix package featuring remixers such as DJ Funky Junction, MARAUD3R, Tonekind, and many others. The final track listing will be released at a later date. "Run On Love" will be available for digital purchase and streaming on Friday, September 18, 2015 in North America.
In an article featured on Dancing Astronaut describing "Run On Love" Lucas Nord stated, "I had this instrumental track for quite some time, and then received a version with a topline that Tove Lo had written. I instantly thought it was just right for the track. We met up a couple of weeks after in my good friend Rasmus Faber's studio and re-wrote some stuff and recorded it. I don't think i had one single bad take by Tove. She absolutely killed it on this one."
For more information about the release visit: http://www.radikal.com
###
About Radikal Records:
Established in 1990, and based just outside of NYC, Radikal Records is one of the United States' leading independent record labels. In business for more than 25 years, they are focused on marketing, promoting, and distributing artists – not only to audiences in the USA, but also on a global basis to partners world-wide. Artists included on their roster over the years include: Kristian Nairn, DJs From Mars, Tony Moran, Salt Ashes, 2 Unlimited, N-Trance, Zombie Nation, ATB, Yello, Scooter, Schiller, Blank & Jones, Cosmic Gate, Sinead O'Connor, Ayah Marar, and many others. For more information visit: http://www.radikal.com