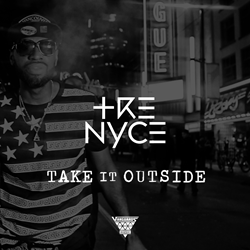 Vancouver, BC (PRWEB) September 02, 2015
Among the "New Wave" of artists bursting on to the Hip-Hop scene from Canada, one name stands out above the rest and is highly regarded from coast to coast as "The One To Watch". Vancouver Based, Tre Nyce already boasts an impressive resume having worked with the likes of Swollen Members, Tech N9ne, Glasses Malone, and La Coka Nostra. Following a successful feature campaign on the aforementioned Swollen Members 2009 release "Armed To the Teeth", The "King Of The V" is poised to embark on his crusade for notoriety and credibility amongst the greats of the game today.
Today Coast 2 Coast Mixtapes announces the release of the latest single by Vancouver-based artist Tre Nyce, entitled "Take It Outside". The single is currently available for streaming and download at the Coast 2 Coast Mixtapes website.
Tre Nyce is currently seeking press opportunities, interviews, features, and more. He can be reached through his official Twitter page.
About Tre Nyce: Tre is a unique artist. He possesses fierce when it comes to battles and performances, explosive energy on stage and confidence in himself, music and life. Tre's skills, perseverance and strong work ethic do not go unnoticed because he has performed and collaborated with some of Canada and the U.S. music industry's top artists.Most notably being Swollen Members. The group consists principally of the duo Mad Child and Prevail, two of the most innovative people in Hip-Hop. A frequent collaborator includes Rap Artist/Vocalist Moka Only and Producer Rob The Viking, an official group member since 2002. Swollen Members are part of the reason that many Canadian Hip-Hop and Rap artists are now in the forefront of the global music scene and Tre Nyce is no exception. Tre's talents speak for themselves and as such, the Swollen Members crew quickly and inducted Tre to become a "Battle Axe Warrior", collaborating, working and performing at shows throughout Canada, soon to be on tour in the U.S. working with Battle Axe, Subnoize, and DJ Skee on solo projects, upcoming tour dates with some of the U.S. music scene's heavy hitters, Tre Nyce is busy as ever and as always, he is up to the challenge. Tre has just completed his album and mixtape, the CD will hit the streets soon. There is a lot happening for this hot new artist and so much is to be said, but due to confidentiality, cannot be released at this time. This summer is going to be Huge for Tre Nyce, so stay posted. For more info on Tre Nyce visit his official website.
About Coast 2 Coast Mixtapes:
Coast 2 Coast Mixtapes are the most widely distributed mixtapes in the world, with over 100 million downloads/plays generated by over 300 volumes officially hosted by major artists. Coast 2 Coast has a solid reach in the new music industry with a digital magazine, DJ coalition, industry tips blog, yearly convention, and more. Coast 2 Coast Mixtapes represents a unique opportunity for artists of all urban genres, from major to indie. For more information, visit http://www.coast2coastmixtapes.com.