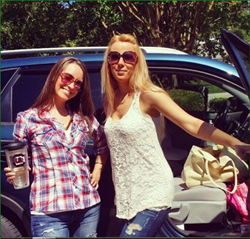 Jacksonville, FL (PRWEB) September 04, 2015
The Crazy Daysies, Americana-country band based in Jacksonville, have recorded a new song, "We Are America," to commemorate the anniversary of September 11, 2001. The song is the first recording sisters Rebecca Day and Jennifer Day Thompson did not write. It was, as poets sometimes say, "a found song."
The Daysies had hit the road this summer for their Sister Roots & Cowboy Boots tour, playing music in small towns and big cities. "There's no better way to get to know America than taking your music to people," said lead vocalist and guitarist Rebecca Day.
Violist and vocalist Jennifer Day Thompson, pregnant with her first child, wanted to see her family before the baby was born. So after a tour stop in coastal South Carolina, the sisters headed to Columbia, the city where they grew up. As always, guitars came out and a jam session began. Many in the family play an instrument. Jan Day Plowden, Rebecca and Jennifer's aunt, shared a new song she had written.
"I was inspired by things I saw on the news," she said. "One night I saw people stomping on the flag, and I wrote 'We Are America' immediately."
Jan's father served in the US Army for many years, and one of her sons serves in the US Marines Corps. "You see them go on deployment and leave their families, and you really understand the sacrifice," she said.
After Aunt Jan played the song at the gathering, although the family isn't known for being quiet, you could have heard a pin drop in the room. She asked the Daysies if they'd like to record it.
Jen, Rebecca, and Jan coordinated their schedules, recording the song in Jacksonville at Rockbot Studios, the facility where producer Josh Cobb had recorded other music for the band.
"We wanted to do the song to honor our country for the anniversary of September 11, 2001," said Jennifer. "We wanted to do it not because of anger, but as a means of healing."
The project became a family affair. Photos were gleaned from scrapbooks of Day family members whose loved ones had served in the Korean War and in more recent wars. Other photos came from Jennifer's husband David's family. David's mother, father, and godfather all served in the US military, and David's mother's father also served.
Besides the photos of members of the military, Jennifer and Rebecca also wanted images of the beautiful landscapes and shores they see when they are on tour. They turned to a photographer who is an American treasure, Carol Highsmith. The musicians don't know Highsmith personally, but they feel like they know her through her work. Highsmith is one of a select group to have a one-artist archive of photos at the United States Library of Congress in Washington.
Highsmith generously gifted more than 100,000 images of Americana to the LOC, placing them in the public domain. The images include buildings and natural areas, rural scenes, people, and monuments. Among the Highsmith collection photos the musicians chose for the video are the Memorial to Women in the Military at Arlington (Va.) Cemetery and one of a woman standing at a barn door on property where Carol Highsmith's grandfather and great-grandfather were born in Wentworth, North Carolina.
Other images came from the US Department of Defense. Rebecca, long passionate about women's causes, chose an image of U.S. Army 1st Lt. Elyse Ping Medvigy taken in Afghanistan in 2014. Medgivy is the first female company fire support officer to serve in an infantry brigade combat team supporting Operation Enduring Freedom. That image was taken by Staff Sgt. Whitney Houston.
Some digging led to an iconic 1969 photo of soldiers carrying a wounded comrade through a swampy area in Vietnam. Jen and Rebecca's father served in the US Army during the Vietnam era, and stories he had told them made them realize how much was sacrificed in that war.
Photos of band members Jennifer, Rebecca, and percussionist Beau Littles are interspersed throughout the video. Some were made by Jacksonville photographer Joel Molotzak.
Also included is a photo of Rebecca and Tara Richardson who works for the Wounded Warrior Project. Rebecca donated a performance to help raise funds for the organization. Percussionist Beau Littles of Yulee is also included in the video; he performs regularly with the Daysies.
At the center point of the video is a photo of the New York skyline, taken from the harbor. Jennifer snapped the photo in the spring of 2001 during a trip with her school orchestra to perform at Carnegie Hall. Months later, the Twin Towers fell.
"That was a definitive moment in our lives," said Rebecca. "Our generation—every one of us—remembers what we were doing when the Twin Towers were hit."
The project consumed Jennifer, Rebecca, and Jan for weeks. The band wanted to create something that evoked the unity Americans felt after 9/11. They also wanted to depict the beauty and diversity in their country and in their family.
"The news might seem all bad sometimes," Jennifer said, "but as we perform in different states, what we see are people living their lives, taking care of their families. We wanted to share something positive with our country, and the video and the recording of Aunt Jan's song is the result."
Rebecca was sharply reminded of how a person's life can be impacted by the sacrifice of the US military. At a gathering in Florida, one young woman told her that had it not been for the United States, her mother would have been forced into a marriage she did not want.
"The lines in Aunt Jan's song are simple and complex at the same time," Rebecca said. "When I sing, 'It sits in your soul, beats in your heart,' I know that feeling. I get it every time I hear the national anthem at a football game or anywhere else."
Jennifer said, "Our family is truly diverse—we are a perfect example of the melting pot."
Jan had written and played music for years, but shared it primarily with family and friends. She and her husband raised a family and she worked in government service. "We Are America" is her first published work.
The Crazy Daysies are issuing the song as a single release, but the video that includes the song is available to all to share on social media via YouTube and on the group's official website thecrazydaysies.com. The release date is September 8, 2015. ###
PHOTOS AND CAPTIONS
(1) JoshCobb.JanDayPlowden.AmericaSong
Rockbot Studios producer Josh Cobb with songwriter Jan Day Plowden during recording session of "We Are America." (Photo: The Crazy Daysies)
(2) Daysies Jen Thompson.RebeccaDay.Palm Coast tour stop
Jennifer Day Thompson, violist and vocalist, with lead vocalist and guitarist Rebecca Day heading to a performance in Palm Coast (FL), one of 12 cities on their Sister Roots & Cowboy Boots Tour in summer, 2015. The tour culminated with a performance at the VIP lounge at Coral Sky Amphitheater in West Palm Beach (FL) where The Crazy Daysies were featured between national acts at the Tim McGraw concert. (Photo: The Crazy Daysies)