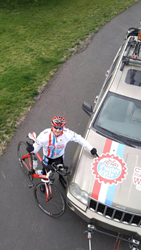 "Jessie had the light of Christ in her, and through Jessie's Well we can continue to shine that light on others in need around the world."
COLORADO SPRINGS, Colo. (PRWEB) September 23, 2015
On September 8, Kit Garren, cyclist, father, and co-founder of Jessie's Well Foundation departed Seattle, Wash., on a 3,450-mile, 12-state bike ride across the United States. This labor of love, in partnership with Compassion International, is aimed at raising funds to provide an economically viable and sustained source of clean, healthy drinking water to impoverished villages throughout Central America. The bike tour will make stops in Colorado from September 24-29, beginning with Fort Collins.
In 2008, Kit and and his wife, Marilyn, tragically lost their 17-year-old daughter, Jessie, to a rare form of cancer. Jessie's family formed Jessie's Well Foundation to honor her life and faith by helping to alleviate severe health problems caused by the lack of clean water in impoverished areas of the Dominican Republic.
"Jessie had the light of Christ in her," said Marilyn, "and through Jessie's Well we can continue to shine that light on others in need around the world."
The first Jessie's Well water purification plant was dedicated in February 2014 in the village of Villa Gonzalez outside of Santiago, Dominican Republic. Producing 6,000 gallons daily for a village previously without access to affordable, clean water, the plant is economically self-sustaining. It provides water to 20,000 people in the village. The second Jessie's Well plant has been fully funded as part of a 5-year plan for 24 additional plants. It will be constructed in the village of Villa Vasquez and should be complete by early 2016.
Compassion International helps fund and establish these sustainable water purification plants, which are owned and operated by church partners of the ministry within the Dominican Republic. The churches carry out Compassion's holistic child development programs that help lift children out of poverty. The clean water is available to Compassion-assisted children, their families and the greater community at Compassion's Child Development Centers within the local churches.
The plants use a reverse osmosis purification process and require construction of a building and installation of purification equipment. Each plant will be professionally engineered and constructed. Plant operation itself creates some local employment. In addition, the benefits of clean water to local households includes increased productivity due to reduced sick time, plus reduced school absences, reduced health care costs, and better quality of life.
Jessie's Well Foundation was set up by the family of Jessie Garren to honor her faith and courage. Asked if she was afraid while fighting Stage 4 cancer, Jessie said, "God doesn't blink." Her faith and her assurance of eternal life never wavered. Her courage inspired everyone who knew her. She wanted to go with her youth group to help children in the Dominican Republic, but her failing health prevented it. The foundation has built one water purification plant in the Dominican Republic, funded a second plant currently under construction, and plans 22 more as part of a five year plan. For further information please visit JessiesWell.org, or follow the journey on Twitter at @JessiesWell.
Compassion International is the world's leading authority in holistic child development through sponsorship. Compassion revolutionized the fight against global poverty by working exclusively with the Church to release children from poverty so that they may become responsible, fulfilled Christian adults. It is the only child sponsorship program to be validated through independent, empirical research. Compassion partners with more than 6,900 churches in 26 countries to release over 1.7 million babies, children and young adults from poverty in Jesus' name. Compassion has been awarded the highest rating for financial stewardship and transparency for 14 consecutive years by Charity Navigator, America's largest charity evaluator. For more information on the ministry, visit compassion.com.
Show your support to Kit as he cycles through your town!
INVEST IN HOPE!
Log on today to http://www.jessieswell.org/news-and-events/events/water-cycle to learn how you and your local community organizations can get involved. Become an Ambassador, Volunteer, Raise Awareness, and Donate Funds!
Kit Garren can be reached at: 828-779-5504, or contact:
Becca Bishop, Compassion International
719-338-8814, or bbishop(at)us.ci(dot)org