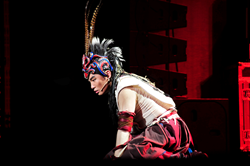 These are truly two magical musicals that should not be missed!
Pasadena, CA (PRWEB) September 04, 2015
Kunlun Myth is a large-scale Chinese extravaganza, an amazing musical, performed by Musical China Theatre Troupe. This production runs from September 15th until September 17th, 2015.
Kunlun Myth is a wonderful display of both ancient and modern concepts through an alternate expression of heaven and earth. The story of a mythical place in the Kunlun Mountains and the real world of fantasy deliver's a legendary love story.
This large original musical made its premier in 2012 as the first Chinese original musical, performed by the Musical China Theatre Troupe, produced and directed by Don Frantz (Beauty and the Beast, The Lion King). "Kunlun Myth" has presented over one hundred performances, as well as producing a tour version and an international version, all of which invites diverse music styles with magnificent scenic design. The performances are beautifully outstanding, telling a moving love story about forgiveness and tolerance.
Nasirdin Afandi is a family friendly musical drama that makes it's U.S. debut at the Pasadena Civic Auditorium, Pasadena, CA Saturday, September 19th until Wednesday, September 23rd, 2015.
Nasirdin Afandi is an acclaimed musical which will be performed by the Musical China Theatre Troupe for five magical nights. This timeless tale charms both young and old alike with traditional Xinjiang elements and music. The production incorporates Chinese and Persian cultural influences that hold true to China's Xinjiang region, Central Asia and South Asia. This vibrant musical also conveys valuable lessons on the importance of kindness, diligence, wisdom and harmony, and provides an opportunity for a fun family night.
Ticketing information:
Kunlun Myth and Nasirdin Afandi are now on sale at the Pasadena Civic Auditorium box office or at http://www.ticketmaster.com
Venue: Pasadena Civic Auditorium, CA
Ticket Price: $38/$60/$80
Kunlun Myth showtimes:
Tuesday, September 15, 7:30 pm
Wednesday, September 16, 7:30 pm
Thursday, September 17, 7:30 pm
Nasirdin Afandi showtimes:
Saturday, September 19, 7:30 pm
Sunday, September 20, 7:30 pm
Monday, September 21, 7:30 pm
Tuesday, September 22, 7:30 pm
Wednesday , September 23, 7:30 pm
For more information, cast pictures, posters, videos (all high resolution) please go to: OPUS 88 Culture Exchange