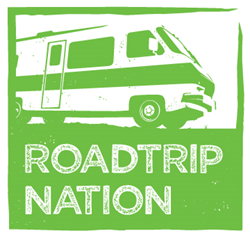 Finding a career path often requires exploration beyond the classroom, and we are happy to help connect these students with leading industry experts through Roadtrip Nation.
San Francisco, CA (PRWEB) September 03, 2015
Roadtrip Nation announces the release of Roadtrip Nation Season 12, The Design Roadtrip. The series is made possible by Autodesk Inc.,a leader in 3D design, engineering, and entertainment software. With KQED, the new season will be distributed through American Public Television stations beginning Sept. 6, reaching more than 70 million households across the country.
Roadtrip Nation is a weekly half-hour documentary series that tracks the personal journeys of three young adults as they travel the country interviewing inspiring leaders from all walks of life. Season 12's road-trippers—Ben, Martha, and Sofaya—are all drawn to design from different angles but don't know what shape their interest will take now that they're each ready to chart their paths post-college. 22-year-old Sofaya studied industrial design, but her parents, who emigrated from Haiti, are pushing her to choose a "safe" path that will lead to a steady career. 24-year-old Ben was born and raised in Rhode Island, but he's craving exposure to places and ideas outside the borders of his home state. Martha, 22, grew up in a family of designers—her dad a video game designer and her mom an architect. She's kept her studies broad and now she's ready to zero in on what's next but doesn't know where to start.
"We are thrilled to work with Autodesk and KQED to empower young people interested in the field of design. We believe exposure to unique career routes allows both our roadtrippers and viewers to recognize their own interests and take the next steps in their professional paths," said Mike Marriner, cofounder of Roadtrip Nation.
The Design Roadtrip includes eight episodes featuring 28 thought-provoking interviews. Advice and insight is given from a wide range of leaders in design, including: Patagonia designer John Rapp, Tina Roth Eisenberg a.k.a. swissmiss, Wayne Unten of Disney's Frozen, Ben Burtt of Skywalker Sound, Pixar's Ralph Eggleston, NPR's Snap Judgment host Glynn Washington, and many more.
"Beyond equipping the next generation of designers and digital artists with powerful technology, we're also passionate about instilling in them a love of design itself," said Randy Swearer, vice president, Education, Autodesk. "Finding a career path often requires exploration beyond the classroom, and we are happy to help connect these students with leading industry experts through Roadtrip Nation."
The philosophy that drives Roadtrip Nation is the search for individuals who have followed their interests and become successful by carving out their own paths. For airtimes, check your local listings or visit http://roadtripnation.com/watch.
About Roadtrip Nation
Roadtrip Nation, renowned for its New York Times best-selling book, award-winning documentary TV series, and innovative career-exploration curriculum, is a nonprofit organization and production company that creates self-discovery resources designed to help people build fulfilling careers. Combining self-reflection with real-world exposure, Roadtrip Nation resources enable individuals to discover compatible career pathways and pursue what they love to do.
For more information, visit roadtripnation.com, roadtripnation.org, or follow @RoadtripNation on Twitter.
About KQED
KQED (kqed.org) has served Northern California for more than 50 years and is affiliated with NPR and PBS. KQED owns and operates public television stations KQED 9 (San Francisco/Bay Area), KQED Plus (San Jose/Bay Area) and KQET 25 (Watsonville/Monterey); KQED Public Radio (88.5 FM San Francisco); kqed.org and KQEDnews.org; and KQED Education. KQED Public Television, one of the most-watched public television stations in the country, is the producer/presenter of national programs such as Sound Tracks; California Forever; and Essential Pépin. KQED Public Radio is the most-listened-to public radio station in the nation and the most popular in the Bay Area. Visit http://www.kqed.org for more information.
About American Public Television
American Public Television (APT) has been a leading distributor of high-quality, top-rated programming to America's public television stations since 1961. Since 2004, APT has distributed approximately half of the top 100 highest-rated public television titles. Among its 300 new program titles per year are prominent documentaries, news and current affairs programs, dramatic series, how-to programs, children's series and classic movies, including For Love of Liberty: The Story of America's Black Patriots, A Ripple of Hope, Rick Steves' Europe, Newsline, Globe Trekker, Simply Ming, Joseph Rosendo's Travelscope, America's Test Kitchen From Cook's Illustrated, Lidia's Italy, P. Allen Smith's Garden Home, Midsomer Murders, Moyers & Company, Doc Martin, Rosemary & Thyme, BBC World News, The Rat Pack: Live and Swingin', Johnny Mathis: Wonderful, Wonderful! and John Denver: The Wildlife Concert. APT also licenses programs internationally through its APT Worldwide service. In 2006, APT launched and nationally distributed Create® – the TV channel featuring the best of public television's lifestyle programming. APT is also a partner in the WORLD™ channel expansion project including its web presence at WORLDcompass.org. For more information about APT's programs and services, visit APTonline.org. For more information on Create, visit CreateTV.com.
Autodesk and the Autodesk logo are registered trademarks or trademarks of Autodesk, Inc., and/or its subsidiaries and/or affiliates in the USA and/or other countries.
# # #
Press Contact:
Loureen Ayyoub
949.764.9121 x207
loureen(AT)roadtripnation.com