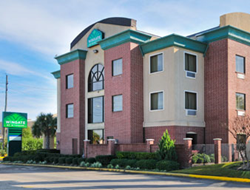 "We are very excited about this new partnership with Wingate by Wyndham. We want to offer the best of services...."
Houston, TX (PRWEB) September 03, 2015
Greenbee Parking, a young and upcoming airport parking service, has just announced that Wingate by Wyndham will be their new business partner in Houston. Now all those who frequently use the busy Houston (IAH) airport can expect a major reduction in their parking costs. The partnership will allow Greenbee customers to use the secure parking lot at the hotel without having to book a room there. Once they park their vehicle they can take one of the regular airport shuttles to reach in time for their flight, without having to worry about rush hour traffic. What's more, the tie-up has led to an increase in inventory which means that Greenbee is able to offer more options to its customers without any increase in price. On the contrary, the innovative company has taken this opportunity to further reduce their prices and offer cheap IAH airport parking rates for all.
"We are very excited about this new partnership with Wingate by Wyndham," said Christine Cooper – Marketing Coordinator, Greenbee Parking. "We want to offer the best of services at the lowest prices possible and to that end we are always looking for opportunities to expand and innovate. This partnership has positively increased our inventory in a way that we can cater to a larger group of Houston travelers and offer incredible value for them. Our competitive IAH airport parking rates provide great savings for our customers."
George Bush Intercontinental Airport Parking Information
The George Bush Intercontinental Airport (IAH) is one of the busiest airports in the world and the fifth-largest metropolitan airport in the United States, ranking among the top in terms of passenger footfalls. It is one of the fastest growing airports in the world connecting all major domestic and international destinations. With over 50 million domestic passengers and over 8.7 million international passengers using IAH each year, it is no surprise that the airport is looking at major expansion plans. While the authorities are constantly upgrading the premises and other services, private providers like Greenbee Parking have greatly aided in the increased parking demand. The young brand has become popular in a very short time with its innovative deals and the affordable IAH airport parking rates, creating greater value for every customer.
The Greenbee Airport Parking Solution
Greenbeeparking.com is the connection between consumers and parking vacancies in close proximity to major airports and seaports. The parking spaces are very affordable because the company has negotiated discounted rates with major hotel chains for the parking spaces that are not currently occupied. Here's how it works.
Greenbee Parking puts the available inventory of parking spaces on their website to be reserved by business and leisure travelers looking for cheap airport parking. This alternative method for finding parking equates to significant savings for the traveler. You can learn more about their offers from (http://youtu.be/RWc3dqhugFA).
About Greenbee Parking
Greenbee Parking is the nation's most innovative long term parking company, with a new way of making long term parking affordable. The company is rapidly adding new airports to its network.