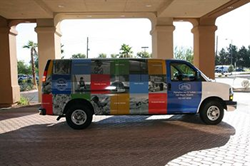 "....we can offer more to our customers, not just in terms of secure parking but also in terms of really affordable and cheap LAS airport parking."
Las Vegas, NV (PRWEB) September 09, 2015
Greenbee Parking, a rising parking brand, has announced new and cheap LAS airport parking rates that promise stupendous savings for all. Vegas needs no introduction for it has been a popular tourist hotspot for both domestic and international travelers for decades. Each year it has seen a rise in the footfalls and with international travel becoming easier and cheaper than before, this will increase more. Heavy tourist inflow-outflow is evenly matched with business travelers who add to the rush as well as business volume. Naturally the airport business and ground traffic has risen in volume as well. Greenbee Parking is perfectly poised to aid in better management of this heavy parking volume with its affordable and innovative offers.
"While all our offers are designed to save money we have even better deals for long term LAS customers, said Christine Cooper – Marketing Coordinator, Greenbee Parking. "Looking at the increasingly heavy volume of business we are constantly adding to our existing space. This means we can offer more to our customers, not just in terms of secure parking but also in terms of really affordable and cheap LAS airport parking."
McCarran International Airport (Las Vegas) Parking Information
The McCarran International Airport ranks as one of the top 10 airports in the country and one of the busiest international airports. It sees over 40 million passenger footfalls each year, a figure that will only rise as the airport adds new airlines and destinations to its charts each year. The tourist business doubles up with business travel figures to keep the airport and its staff hopping round the clock. The airport itself is home to many indigenous businesses, including mini casinos, all of which add to the heavy ground traffic and increase demand for parking. The advent of private service providers have greatly complimented the parking scenario and enabled better customer experience here. Among these Greenbee Parking, with its cheap LAS airport parking rates, have completely revolutionized the concept bringing in greater savings for all.
The Greenbee Airport Parking Solution
Greenbeeparking.com is the connection between consumers and parking vacancies in close proximity to major airports and seaports. The parking spaces are very affordable because the company has negotiated discounted rates with major hotel chains for the parking spaces that are not currently occupied. Here's how it works.
Greenbee Parking puts the available inventory of parking spaces on their website to be reserved by business and leisure travelers looking for cheap airport parking. This alternative method for finding parking equates to significant savings for the traveler. You can learn more about their offers from (http://youtu.be/RWc3dqhugFA).
About Greenbee Parking
Greenbee Parking is the nation's most innovative long term parking company, with a new way of making long term parking affordable. The company is rapidly adding new airports to its network.