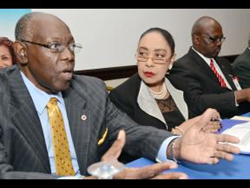 Boise stated" Health City Cayman Islands provides an immediate cost effective quality solution.
Miami, Florida (PRWEB) September 04, 2015
EMED Jamaica Global Ltd. (EMED), Jamaica's premier ground, air ambulance and medical assistance company today announced that it has entered into a multi-year agreement with Health City Cayman Islands.
(http://www.healthcitycaymanislands.com)
Last week, EMED signed an agreement to bridge the link between American healthcare, Jamaican healthcare and Health City Cayman Islands to deliver high-quality, affordable healthcare by utililizing ground ambulance, air ambulance, medical concierge services and technology solutions to do so.
Given the hospital's close proximity to Miami and Jamaica, Duane Boise EMED's CEO is planning to attract patients throughout the Caribbean region and from the United States. That would certainly explain why Health City is building a 5-star hotel next door with a foot bridge connecting the two world-class structures. With Health City's low-cost, high-quality package pricing, medical procedures are approximately 20% - 80% less than the typical US hospital cost.
Some Jamaican and US health officials may scoff at the idea that people will travel to Health City Cayman Islands. Dr. Shetty, Health City Cayman Islands Chief Medical Officer and world renowned cardiac surgeon, can match the performance of his hospitals in India. Already, the Cayman Islands' business-friendly government has allowed Dr. Shetty to move ahead with development much more rapidly than he ever could have in Jamaica and the U.S.
As EMED makes this announcement, other announcements were also recently featured in the Wall Street Journal and the widely cited Harvard Business School case study. Narayana is internationally regarded as a low-cost, high-quality healthcare provider. Its newest hospital, Health City Cayman Islands, is the organization's first development outside of India. It has American healthcare providers watching closely and anxiously.
EMED JAMAICA Positions To Deliver Quality Care To JAMAICA
At the end of 2013, Caymans Health City, partnered with Narayana Health which was operating 18 hospitals across 14 cities in India. With a laser focus on efficiency and quality, the average Narayana cardiac hospital performs 40 heart surgeries a day for less than $1,600 a case. That's about 2 percent of the average heart surgery cost in the U.S. with outcomes that rival the best American facilities. Health City Cayman Islands focuses on cardiac and total joint surgery, cancer care and transplant services.
In this new Cayman Islands facility, Dr. Shetty will charge less than half the average U.S. price for surgical procedures with quality outcomes that match or exceed the very best U.S. hospitals.
The Power Of Purpose And Vision
Duane Boise, Pres/CEO of EMED stated, "that human life should not be determined by a price".
(http://www.airambulancejamaica.com)
"One hundred years after the first heart procedure was performed, only 10 percent of the world can afford to have one," he said. "We can and must do better. The future cannot be just an extension of the past. It must embrace new technology, implement innovative approaches and aim higher than people thought possible before."
The same is true for hospitals. A facility that offers very few advanced procedures today can quickly leapfrog world-leading hospitals because – instead of slowly replacing old technologies – they can immediately implement sophisticated, modern technologies and cherry-pick the most innovative operational designs.
"Health care affordability will not come from the United States or any of the current world leaders, but rather from those nations of the world that have little today and have no choice but to perform at the highest levels possible in the future," he said.
How Dr. Shetty Achieves High Quality At Lower Costs
So, what's his secret? Dr. Shetty and Narayana Health incorporate a four-part blend of sophisticated technology and economies of scale to deliver exceptional quality while managing costs:
1. EMED Telemedicine Technology
2. Utilizing real-time data by remote medical monitoring
Patient care at Health City Cayman Islands is supported by state-of-the-art technology that uses a robust telemedicine technology and electronic medical record (EMR) system to augment clinical care.
http://www.emedhealthtechnology.com
According to Duane Boise, time is the enemy of quality and cost savings.
"When patients have potentially life-threatening problems EMED ground and air ambulance has the ability to provide emergency ambulance services to Jamaicans in need because their health deteriorates with every passing minute," he said. Doctors can minimize this deterioration by responding rapidly when unexpected clinical findings surface. This allows the patient to recover much faster and reduces the total cost of care.
You might think every hospital would do this, but that isn't the case.
To heighten the hospital's focus on rapid response, Health City Cayman Islands has entered into the agreement with EMED to bridge the link allowing quick access for significant medical problems. EMED's new telemedicine system improves the speed of response. Once the telemedicine contact begins, the system documents the time it takes for physicians and nurses to respond appropriately.
The hospital-wide average time for an appropriate response in Health City Cayman Islands is seven minutes. In the typical Jamaican and U.S. hospital, this time delay is substantially more.
As Duane Boise states, "These delays mean prolonged hospital stays, increased medical complications and even death." The result is productivity double that of the typical U.S. hospital.
What Does This Mean For Health Care?
"The future is in front of them, but they can't see it,"stated Dr. Shetty.
Based on everything Boise saw in the Cayman Islands Health City is about 10 years ahead of those used in the typical U.S. hospital and 20 years ahead of Jamaica.
It may take a decade for Health City Cayman Islands to complete the 2,000 bed construction and attract the volume of patients necessary to fill each bed. But if I were the CEO of a hospital in Florida, I would be rushing to match his outstanding clinical outcomes and low prices today. Once Health City Cayman Islands is fully operational and filled to capacity, it will be too late.
About EMED GLOBAL JAMAICA, Ltd.
EMED, provides secure and easy-to-use online video telemedicine solution that links to EMED's. Health Records ("PHRs"), serving consumers, healthcare professionals, employers, insurance companies, financial institutions, and professional organizations. The EMED Telemedicine technology enables individuals and families to access their doctor anytime from anywhere using the Internet.
The Company's professional offering, EMED ALERT®, is designed to give physicians' offices an easy and cost-effective solution to telemedicine, digitizing paper based medical records and sharing them with patients in real time through an integrated patient portal. To learn more about EMED, and its products, visit http://www.EMEDHEALTHTECHNOLOGY.COM
JAMAICA AIR AMBULANCE, headquartered in Kingston,Jamaica, supports operations throughout the Caribbean as well as in Kingston, Montego Bay,Negril, Ocho Rios, Portland, and Manchester Jamaica. EMED provides emergency ground, air medical transport services fixed-wing aircraft, medical assistance and has performed most all air ambulance missions in Jamaica since its inception in 2009. EMED has been recognized by the Medical Association of Jamaica, and the Jamaica Chamber of Commerce. For more information, visit http://www.airambulancejamaica.com
For Emergency Air or Ground Ambulance call EMED 275-1119