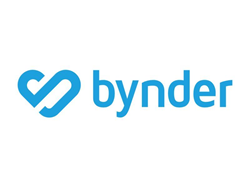 Establishing control over the entire brand lifecycle is key to streamlining the creation, cultivation and consumption of assets in global brand management
Amsterdam, The Netherlands (PRWEB UK) 3 September 2015
Online brand portal solution, Bynder, is pleased to announce their exclusive platinum sponsorship of the Brand2Global Conference, London's top global marketing conference. An international event that hosts marketing professionals from around the world, Bynder CEO, Chris Hall will address the importance of branding automation software in managing an ever increasing workload for branding professionals.
According to Venture Beat's July marketing automation report, only 5% of businesses use marketing automation tools. "Establishing control over the entire brand lifecycle is key to streamlining the creation, cultivation and consumption of assets in global brand management" states Bynder CEO, Chris Hall. Alongside Nathalie Quéré, Head of Corporate Branding at AkzoNobel, Chris will illustrate how brands can establish this control and achieve end-to-end brand consistency.
"We have a vision for process-driven branding. By bringing together all of the tools, branding automation software reduces manual workloads and helps maintain brand consistency. This event presents us with a fantastic opportunity to share best practices with companies that prioritize the development and maintenance of a sustainable brand" says Bynder CMO, Lidia Lüttin.
Taking leadership as the most easy to use marketing resource management solution, Bynder runs on a SAAS foundation, allowing it to work with the latest and best web technology. With a 500% year-on-year growth, Bynder stands out amongst the hundreds of marketing automation vendors thanks to its features focused on branding (rather than just lead-gen marketing), including its latest addition of an Arabic language tool.
Contact:
Nehmi Klaassen
Senior PR Specialist
nehmi@getbynder.com