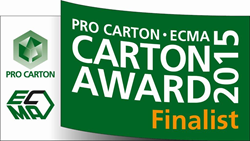 (PRWEB UK) 4 September 2015
The Alexir Partnership is delighted to be associated with Green Gourmet and congratulate them on becoming a finalist in the Pro Carton ECMA Awards 2015. These annual awards for outstanding carton packaging on the market is one of Europe's most prestigious packaging awards and will be presented on 10th September as part of the ECMA Congress in Bucharest. This year the jury was overwhelmed by the quality of the entries. Special attention had been paid to the role of cartonboard as the most sustainable of packaging materials; cartons not only excelled through their design, but also through their convenience and die perfect interaction with marketing and the brand message.
The award-winning pack 'It's Just…..My Box of Great British Fish & Chips' won two impressive awards in 2014; the Food and Beverage Mercury Award and the Packaging Innovation Award for On Board Hospitality at the World Travel Catering Expo in Hamburg. Created with DHL for British Airways, the travel 'marketplace first' is now hoping for a third major award to add to its roster.
The innovative carton pack enables caterers to tap into the strong global demand for the classic British fish supper and solves the previous problem of how to keep batter crispy and chips from going soggy when in the air. Featuring white and flaky, sustainably sourced, cod fillet, it is the first consumer ready product for the global travel market to be Marine Stewardship Council (MSC) certified.
For the packaging, Green Gourmet's designers called upon hot food packaging experts, The Alexir Partnership, to deliver on their challenging brief. It covered the sourcing of a specific board type, accommodating the distinctive artwork, working to exact box dimensions and incorporating optimum ventilation and a tamper proof lock. Getting all elements right was crucial so it tasted just as good at 30,000 feet as from your own corner fish & chip shop. The outcome is an award-winning packaging design that not only protects the product but aids heating to give an enjoyable meal on board.
Note to editors
The Alexir Partnership works closely with the airline and travel catering sectors in designing, developing and manufacturing bespoke food packaging to enhance food products which are being created and delivered to the world's leading airlines and travel providers.
For more information
Claire Summersby
Marketing Manager & Head of Innovation
The Alexir Partnership
csummersby(at)alexir(dot)co(dot)uk
01732 866681
http://www.alexir.co.uk
About Green Gourmet
Green Gourmet is a fresh, dynamic food innovation company based in the UK. They offer innovative solutions to foodservice challenges as well as supplying a large range of frozen meat, poultry, fish, vegetarian and bakery products.
For more information contact:
Barry Jordan, Marketing Manager,
E: bjordan(at)greengourmet(dot)co(dot)uk
W: http://www.greengourmet.co.uk
T: 00 44 1453 797 910