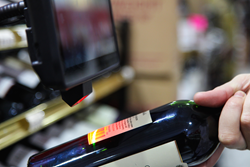 "Retailers can guide foot traffic to their stores' most profitable brands, and then provide shoppers with reliable, on-demand information and cross-sell suggestions, while they are at point of decision," said Carl Merideth, president of Expert OnCue
Alpharetta, GA (PRWEB) September 08, 2015
Expert OnCue has unveiled a simple-to-use, yet powerful platform, to help beverage and grocery retailers drive in-store sales and engage shoppers.
The In-Store Persuasion Platform enables retailers to influence and guide shoppers' purchase decisions in the aisle, at the entrance and at checkout.
It consists of HD digital signage, plus OnCue's patented, on-demand audio information, to describe each of the beer, wine and spirits products available in a retailer's location.
"The In-Store Persuasion Platform enables retailers to blend digital signage and interactive terminals to engage shoppers storewide," said Carl Merideth, president of Expert OnCue. "Retailers can guide foot traffic to their stores' most profitable brands, and then provide shoppers with reliable, on-demand information and cross-sell suggestions, while they are at point of decision," Merideth said.
With OnCue's digital signage, retailers can greet shoppers, promote products, list specials, run manufacturers' videos, and show any customized content. Market research suggests digital screens can generate at least 15 percent boosts on promoted items.
Then, when in the aisle, shoppers can touch interactive touch-screens, or scan the bottle's barcode, to hear professionally recorded audio, giving compelling details about the beverage's taste, food pairing suggestion and other information.
"Store reps may be able to tell you a bottle's price, but not too many will know how to make a Mango Margarita; or what wine or craft beer to serve with Lobster," Merideth said. "OnCue's on-demand info provides contextual and reliable information to builds shoppers' confidence, encouraging them to try new brands. This often results in larger shopping baskets."
The platform also includes metrics about products scanned, helping retailers make buying decisions, and marketers determine the effectiveness of their marketing campaigns, Merideth said.