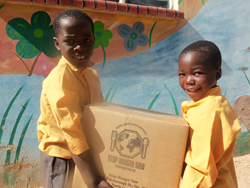 San Jose, CA (PRWEB) September 03, 2015
Every night, one in nine people throughout the world -- 795 million human beings -- go to bed hungry.
Since 2005, over 600,000 volunteers from businesses, faith-based organizations, civic groups, schools and universities have packaged nearly 210 million meals for distribution to developing countries in partnership with international relief agency Stop Hunger Now.
On September 9, 2015, innovative partnerships to end world hunger will be the focus at "Packaging Hope," an inaugural event benefiting Stop Hunger Now.
The event, to be held at the DoubleTree by Hilton San Jose from 6 p.m. to 8 p.m., will showcase Stop Hunger Now's global impact on hunger that institutes collaborative partnerships working together to provide food and aid to those in need in 71 countries around the world.
The evening will highlight Stop Hunger Now partner programs in Nicaragua, Haiti, Guatemala, India and Vietnam. Featured speakers will include Rod Brooks, CEO of Stop Hunger Now; Nancy Letteri, Executive Director of Children of Viet Nam; and Dola Mohapatra, Executive Director of Stop Hunger Now India.
Inaugural sponsors for the event include Cisco Systems, HP, Visa, the Broadcom Foundation, Fenwick and West and Hilton Worldwide. A highlight of the program will be a fast-paced, hands-on meal packaging event where participants will package 5,000 meals in less than an hour. Attendees will taste the meals provided to the meal recipients, learn about new developments with Stop Hunger Now's sustainable livelihood programs and consider opportunities to visit and support their partner programs in-country.
Stop Hunger Now distributes meals through feeding programs operated by partner organizations in developing countries that promote education, encourage children to attend school, improve students' health and nutrition, address gender inequalities, stimulate economic growth, fight child labor, and are part of the movement to address global issues.
"Hunger is a problem that can be solved and is the common thread among the world's most challenging issues," says Brooks, Stop Hunger Now's CEO. "Targeting hunger provides leverage and hope to every other cause, including poverty, disease, education and the welfare of women and children."
Contact: Karen Sanders Noe, Director of Corporate Relations, Stop Hunger Now
knoe(at)stophungernow(dot)org
408.781.6166
About Stop Hunger Now
Stop Hunger Now works to end hunger by providing food and life-changing aid to the world's most vulnerable people, and by creating a global commitment to mobilize the necessary resources. Founded in 1998, we have provided over 200 million meals in 65 countries. This year, we will package 45 million meals, and ship over $9 million in donated aid, mainly vitamins and medical supplies. Based in Raleigh, N.C., we operate meal-packaging programs at 19 cities in the U.S. and in South Africa, Malaysia, India, Italy and the Philippines.