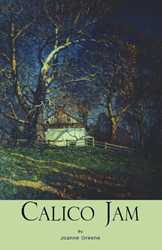 They are as real or unreal as you like.
HARRINGTON PARK, N.J. (PRWEB) September 08, 2015
The Great Depression is known for being the most dreadful economic downturn in modern history. Joanne Greene was a young girl during this time of hardship and can recall the impact it had on her youth.
In her new book, "Calico Jam," Greene blends together true stories with fictionalized details set against the backdrop of the Great Depression and World War II. Emphasizing compassion, tolerance, endurance and forgiveness, Greene covers how a young girl handles love, loss and uncontrollable situations.
This coming-of-age story takes readers into the life of a young girl desperately seeking answers to a family tragedy filled with dark secrets and feeling the burdens of the elder generations.
"The characters in this tale have been assembled from scraps of collective and individual memories," Greene said. "They are as real or unreal as you like."
"Calico Jam"
By Joanne Greene
ISBN: 978-1-41347-607-1
Available in softcover, hardcover, e-book
Available online at Amazon, Barnes & Noble and Xlibris
About the author
Joanne Greene has been a writer most of her life. "Calico Jam" is her first published book. Greene is currently retired, living in New Jersey.