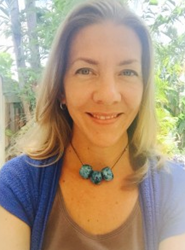 Palm Beach, FL (PRWEB) September 04, 2015
First Step Detox is proud to announce the hiring of new Program Director Maggie Votteler, MS. Votteler joins a team of caring professionals, dedicated to improving the lives of individuals dealing with substance abuse and addiction, and helping them towards detoxification and recovery.
Votteler graduated from Barry University with a Master of Science in Clinical Psychology in May 2015. Previously, she worked for two years as a counselor in the IOP program with Memorial Regional Hospital, while also gaining experience as a Contract Manager and Program Specialist for Healthy Start n Broward County.
She brings a unique blend of experience including therapeutic work with groups and individuals battling substance abuse, mental health and thought disorders. Her research was in mindfulness, enhancing an already core belief of First Step Detox.
Votteler believes that mindful behaviors are a crucial ally to alleviate the symptoms of depression, anxiety and chronic pain, all of which are commonly found in those with substance abuse and addiction problems. She believes the power of health and healing is within each individual, provided they have the right support systems and have gained the necessary tools they need for long lasting recovery.
First Step Detox emphasizes quality of life and comfort for patients, while developing custom made programs for each person and his or her unique needs.
After detoxification is complete and rehabilitation can begin in earnest, First Step believes in addressing the underlying root issues behind a person's addiction, while providing education on how each person can successfully manage his or her life far into the future as well.
First Step Detox cares about the success of each patient, and is committed to their success. With their help, detoxification can be an entirely different, less painful and more comfortable experience.
Patients receive luxurious, private rooms, and can partake in various recreational and extracurricular activities, while taking in the great weather of Florida and the beauty of the pristine, spacious grounds of the facility.
Visit http://www.FirstStepDetox.com to learn more about their drug detox and alcohol detox programs. Call the 24-7 hotline at 877.389.1135 and speak with a representative to learn how to get started with First Step.
About First Step Detox
First Step Detox is dedicated to helping individuals from across the entire country take the all-important first step towards recovery. Located in sunny Palm Beach, Florida, the facility provides drug detox and alcohol detox services, and provides customized programs, tailored to the unique needs of every individual. First Step Detox emphasizes minimal pain and discomfort, and comfortable surroundings, and offers true caring support and commitment to each person. Visit FirstStepDetox.com for more information, or speak with a representative by calling 877.389.1135.