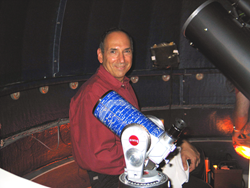 The chance to see observation logs and journals from renowned astronomers - Galileo Galilei, Isaac Newton, Tycho Brahe, etc. - at Linda Hall Library was tremendous. I decided it was important to make my experiences observing the night sky also available
KANSAS CITY, Mo. (PRWEB) September 04, 2015
Canadian astronomer David Levy — who discovered or co-discovered 22 comets — will donate the night sky observation logs he has maintained for nearly 60 years to the Linda Hall Library.
Levy is internationally known for his co-discovery of Comet Shoemaker-Levy 9 that collided with Jupiter in 1994 — an episode that produced the first collision between two solar system bodies ever observed. It is regarded as one of the most spectacular explosions ever witnessed in the solar system. With fellow astronomers Eugene and Carolyn Shoemaker in 1993, Levy discovered the famous comet at the Palomar Observatory in California.
Levy's detailed logs, representing 18,000 sky watch sessions, contain his daily recordings that led to his comet discoveries — including nine using a backyard telescope. He will present the first 25 of his observation logs, spanning from 1956 to the summer of 2015, to the Linda Hall Library following his multimedia presentation — "Writing the Same Book Over Almost Sixty Years: A Record of a Nightwatchman's Journey Under the Night Sky" — at 7:00 p.m. on Thursday, Sept. 10, at the Library. The logs that Levy will create in the future are bequeathed to the Library.
Levy said he first considered this donation during a 2004 visit to the Library where he was able to view several volumes on astronomy in the Library's collection, including observation logs by famed 19th century British astronomer Sir William Herschel. "The chance to see observation logs and journals from such renowned astronomers at the Linda Hall Library was tremendous. I decided it was important to make my experiences observing the night sky also available for future generations," Levy said.
"Turning over decades of my work captured in these observation logs is much the same emotion as if I was donating my own children. The upside is that I know the Linda Hall Library will take good care of them," he said.
The Library's astronomy collection includes an estimated 4,000 books and more than 500 journals, including rare works by Galileo Galilei, Isaac Newton, Tycho Brahe, and others.
"David Levy's donation is an outstanding addition to our collection and provides a unique look into astronomy and his life as an astronomer," said Linda Hall Library President Lisa Browar. "First-person accounts in the form of diaries, notebooks, correspondence, and observation logs are invaluable to preserving history and in this case, the history of one man's lifelong devotion to astronomy."
Levy is the author or editor of 35 books and won an Emmy in 1998 as part of the writing team for the Discovery Channel documentary, Three Minutes to Impact. He was the science editor for Parade Magazine from 1997 to 2006 and is currently a contributing editor for Sky and Telescope Magazine where he writes the monthly "Star Trails" column, and his "Nightfall" feature appears in each issue of the Canadian magazine, Skynews. He has been a consultant for popular science fiction movies about comets and asteroids including Deep Impact and Armageddon. He has been awarded five honorary doctorates, and asteroid 3673 (Levy) was named in his honor. Levy is President of the National Sharing the Sky Foundation, an organization intended to inspire new generations to develop an inquiring interest in the sciences —and reach for the stars.
For more information about Levy's presentation or to register, as well as learn about future Library programs, visit http://www.lindahall.org
About the Linda Hall Library
The Linda Hall Library is among the world's foremost independent research libraries devoted to science, engineering, technology, and their histories. Founded in 1946 through an endowment by Linda and Herbert Hall, the library is a not-for-profit, privately funded institution, and is open to the public free of charge. Scholars, technologists, engineers, researchers, academic institutions and businesses, nationally and internationally, use the Linda Hall Library's collections to investigate, invent, and increase knowledge. The Library's holdings range from rare books to private papers, including extensive collections in diverse areas such as aeronautics, the history of food science, astronomy, Galenic medicine, engineering standards, a resource center for patents and trademarks and more. In addition to the libraries resources, hundreds of people attend the Library's public programs throughout the year to expand their awareness and understanding of science and technology. To learn more, visit http://www.lindahall.org.
# # #