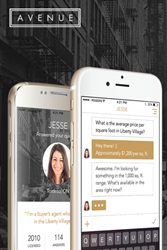 Avenue functions as the middle ground between the digital touch & personal touch, which is exactly what the millennial crowd needs
New York, NY (PRWEB) September 24, 2015
Is it important that a real-estate agent likes the same movies, restaurants and music that you do? Recent trends say: Yes!
Launching "Avenue" the free Real Estate app by ReadyChat Inc, matches compatible agents using online dating algorithms. The real-time smartphone app, named winner of the 2015 Realogy FWD Innovation Summit, is now available in the iTunes store.
Millennials are poised to enter the home-buying market and Avenue changes the way they will find, communicate, and collaborate with Realtors. It is no surprise that these digital natives are doing things differently than previous generations. According to the National Association of Realtors, home-sellers are having difficulty reaching this evasive and mobile group.
"Avenue functions as the middle ground between the digital touch & personal touch, which is exactly what the millennial crowd needs," says Avenue CEO, Justin Shum. "There is a tremendous need in the real estate space for greater sharing of information without the friction commonly found in hiring a Realtor."
Homeowners can download the app for free and ask any real estate related question which is then broadcast to nearby agents. Avenue's unique matching process will enable the best matched real estate agents to respond based on personality, common interests and needs taken from your public Facebook profile.
About Justin Shum:
Justin Shum, founder of Avenue, is a first time homeowner and serial entrepreneur, who is the CEO of ReadyChat INC, a leading live chat services provider for real estate industries. Justin's experience at ReadyChat, coupled with his personal frustration with the home-buying process led him to create this new venture.
The app can be downloaded in the app store in iTunes or visit http://www.askavenue.com