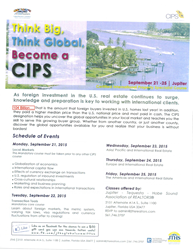 International business is growing. Are you?
Jupiter, Florida (PRWEB) September 08, 2015
On September 21st to 25th is the CIPS Institute held in Jupiter. Hosted by the Jupiter Tequesta Hobe Sound Global Business Committee. The entire institute or individual courses can be taken. This certification is a very important step towards being successful in international real estate marketing and transactions.
The CIPS designation is for REALTORS® from the United States and abroad, as well as association staff and volunteer leaders who wish to develop or grow their international real estate business. It will provide you with the knowledge, research, network, and tools to globalize your business.
What You Gain

-Listing in the "Find a CIPS" online directory
-Customizable print postcards
-Customizable web banner ads
-Customizable press release

-CIPS App that provides translation, area and currency conversion, time zone calculation, and international holidays
-CIPS resource browser toolbar

-Global Perspectives print newsletter
-Webinars

-Access to CIPS member-only online communities
-Invitations to exclusive events at NAR meetings
-Referral contract form
The classes are taught by world renowned teacher Tony Macaluso who travels worldwide to teach these courses. He is currently teaching in South Africa and recently in Washington where he had students from Dubai, China, Thailand and several other countries. According to Mr. Macaluso the students from all these countries are getting certified in order to be entered into the worldwide database of international property specialists. There they can find a certified realtor in the USA to refer their clients to who are interested in investing in America.
The chairman of the Global Business Committee Anton Seiss, broker at Seiss Real Estate says: "It is not just the institute we are offering here. We have a speaker from Moneycorp, a money transfer company, an international CPA for tax laws and other evening events planned for the attendees. We have attendees from Hawaii, California, Naples and other areas. This is not a surprise. Jupiter is a great place to take a vacation. It was voted among the five friendliest seaside towns in the US and ten best places to retire. Jupiter is star studded. Just about every famous golfer owns a home in the area or lives here full time. Rory MacIlroy, Jack Nicklaus, Greg Norman, Ernie Els who opened a school and Tiger Woods who has his own restaurant in the new Harbour Side development. Jupiter is truly out of this world."
There are still some seats available. Reservations can be made by calling the association at 561-746-2707 or online at http://www.jthsrealtors.com A great opportunity to network with realtors from many places.
Other exiting news are the upcoming merger with the Miami Association Of Realtors which will give the JTHS Global Business Committee tools for a rocket start. There is no better time than now to come and experience the amazing feel of Jupiter and its endless opportunities