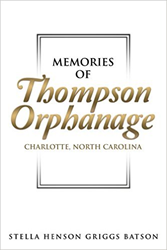 "Children in difficult circumstances need to know they are important and they are loved," Batson said. "Orphanages do that better than foster homes."
CHARLOTTE, N.C. (PRWEB) September 07, 2015
Orphanages are no longer a major part of the childcare system in the United States. According to Stella Henson Griggs Batson, that's not a good thing.
Batson spent her adolescence living at Thompson Orphanage in Charlotte, N.C., and credits the experience for providing her with opportunities she never would have had without the support of the orphanage. Her new book, "Memories of Thompson Orphanage," is filled with first-hand accounts of others who share similar sentiments about the importance of orphanages in America.
"Children in difficult circumstances need to know they are important and they are loved," Batson said. "Orphanages do that better than foster homes."
Thompson Orphanage provided Batson with lifelong relationships and a tight bond with her fellow orphans. Batson, and many of the other individuals featured in the book, are forever grateful for the care they received while at Thompson Orphanage.
"This book is filled with living proof of the benefits of orphanages," Batson said.
For more information, visit http://www.xlibris.com.
Memories of Thompson Orphanage
By Stella Henson Griggs Batson
ISBN: 978-1-49906-559-6
Available in softcover, hardcover, e-book
Available on Amazon, Barnes & Noble and Xlibris
About the author
Stella Henson Griggs Batson went to live at Thompson Orphanage at the age of eleven. She stayed there until she graduated from college in 1955. She currently resides in Concord, N.C.
# # #
**FOR IMMEDIATE RELEASE**
For review copies or interview requests, contact:
Drew Tharp
317.602.7137
dtharp(at)bohlsengroup(dot)com