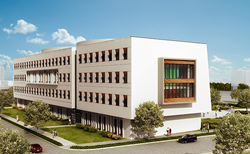 With the help of the Regional Cities initiative, our vision of becoming the next frontier for talent and business will soon be a reality.
Evansville, Indiana (PRWEB) September 03, 2015
Generating primary medical research and creating a new urban living environment will drive Southwest Indiana's Regional Cities proposal. Presented this week to members of the Indiana Economic Development Corporation along with four representatives of the Regional Cities strategic review team, Southwest Indiana's plan, entitled Indiana's Great Southwest, will help create demand drivers and quality of place projects that attract talent as well as build a national brand. Two Indiana regions will be selected to receive up to $42 million to implement its plan.
Cornerstone projects of the Southwest Indiana plan are embedding primary research within the new Indiana University School of Medicine Multi-Institutional Academic Health Science Education and Research Center; and, building the Working Lab for New Urban Living, a partnership that includes Vectren, a Midwest energy company, and Haier, the world's largest appliance manufacturer.
"We know how critical the issue of talent has become, not just for our region but for the U.S.," stated Lloyd Winnecke, Mayor for the City of Evansville. "Our state leaders received a front row seat as to how our region's plan will best meet Indiana's talent needs and become a national model in doing so."
The research center will include outpatient-based research involving four regional hospital partners; early discovery engagements associated with pharma and medical devices; and, incubator space to accommodate startup businesses while increasing the capacity to attract talent interested in medical research, medical entrepreneurial pursuits, or both.
Playing off the "Internet of Things", Haier, Vectren and a selected private developer will create a downtown housing complex that will function as a new urban living research center. With significant growth in urban living across North America, considerable value exists in designing new appliances and related products for small urban living spaces with the ability to monitor, research and analyze energy utilization under various controlled conditions.
The project would be developed in partnership with a private real-estate firm and operate as a platform for research and development associated with energy efficiency and "connected" appliances.
"Our plan will dramatically transform Southwest Indiana, " said Greg Wathen, President & CEO of the Economic Development Coalition of Southwest Indiana. "With the help of the Regional Cities initiative, our vision of becoming the next frontier for talent and business will soon be a reality."
Other plan projects include a university student-driven mixed use development in downtown Oakland City; conversion of a former school in New Harmony into an educational center for arts and local farm-to-table entrepreneurial efforts; and, a pilot broadband demonstration project. The Coalition funded development of the Regional Cities plan and has co-led the process with a consortium of consultants including the Lochmueller Group, Garner Economics and VPS Architecture.
Seven regions throughout Indiana submitted proposals to gain the honor of being named a regional city and claiming $42 million for its projects: Central, East Central, North Central, Northeast, Northwest, West Central and Southwest Indiana. You may view all of the applications here.
About the Economic Development Coalition of Southwest Indiana
The Economic Development Coalition of Southwest Indiana acts as the marketing arm as well as the regional economic development and community development organization for Gibson, Posey, Vanderburgh, and Warrick Counties in Southwest Indiana. The Coalition works with its local county economic development organization partners to facilitate attraction and business retention activities along with supporting efforts to enhance the business climate through regional capacity building. Since its formation in late 2006, the Coalition has helped to secure over nearly $3 billion in new investment and 3,568 new jobs from existing and new companies such as Haier America, Berry Plastics, Mead Johnson, Toyota Boshoku, Midwest Fertilizer Corporation and AT&T.
Another important aspect of the Coalition's multi-faceted job description is helping the communities it serves build new capacity for future development in its role as a regional planning organization. The Coalition has helped secure more than $73 million in grants for key quality of place infrastructure such as expansion of water and sewer systems; building new community centers; and, making improvements to the region's levee system, which protects thousands of acres along America's inland waterways.