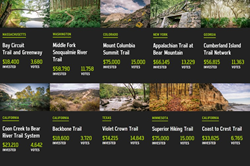 The people who nurture and create access to our trails are heroes within the outdoor community, and we thank them for all they do.
Seattle (PRWEB) September 03, 2015
On August 14, voting for 10 trails around the country opened with the launch of Every Trail Connects, REI's first interactive digital stewardship program. Each vote from the outdoor community allocated $5 to one of 10 trails, helping the co-op decide how to invest $500,000 of its stewardship funds. Just 37 hours and 25 minutes after launch, 100,000 votes had been cast, far outpacing the response expected. To celebrate this passion and advocacy for local trails, REI president and CEO, Jerry Stritzke, has awarded an additional $100,000 investment ($10,000 for each of the 10 trails), bringing the total to $600,000 to enhance access to trails.
Every Trail Connects is part of $5.9 million that REI is investing in 2015 to enhance more than 1,000 outdoor places through nonprofit partnerships. The co-op has invested nearly $60 million since 1976 to programs that help people connect with the outdoors.
"The speed of the response and the numbers in which our members and nonprofit partners engaged in Every Trail Connects just blew us away. We wanted to say thanks with an additional $100,000," said Stritzke. "The people who nurture and create access to our trails are heroes within the outdoor community, and we thank them for all they do."
The 10 trails involved in Every Trail Connects received thousands of votes to support the meaningful work of nonprofit partners. The Mount Columbia Summit Trail in Colorado and the Superior Hiking Trail in Minnesota each secured $75,000, mobilizing 15,000 votes per trail. The full and final results, along with details on all of the trails in the program, are available at REI.com/trails.
During September, the co-op will celebrate trails at REI stores by hosting or promoting stewardship events for National Public Lands Day. National Public Lands Day on September 26 is the nation's largest, single-day volunteer effort for public lands, including parks, trails and green space. REI will partner with nonprofits to host 48 volunteer events during the month through which employees, members and others will work together to care for trails and outdoor spaces, including events at four national parks.
REI Outdoor School, the national leader in outdoor education, will offer field classes, outings and events for a variety of outdoor activities throughout the year. Trail-specific classes will include taking the mystery out of backpacking, getting into running shape and discovering the best places to hit the trail.
Lovers of the outdoors can learn more about the co-op's efforts to give back to its communities at REI.com/stewardship, and can share photos and inspiration on Instagram or Twitter using #everytrailconnects.
About REI
REI is a specialty outdoor retailer, headquartered near Seattle. The nation's largest consumer co-op, REI is a growing community of 5.5 million active members who expect and love the best quality gear, inspiring expert classes and trips, and outstanding customer service. REI has 140 stores in 33 states. If you can't visit a store, you can shop at REI.com, REI.com/outlet or the free REI shopping app. REI isn't just about gear. You can take the trip of a lifetime with REI Adventures, a global leader in active adventure travel that runs 150 custom-designed itineraries on every continent. REI's Outdoor School is run by professionally-trained, expert-instructors who teach beginner- to advanced-level courses about a wide range of activities. To build on the infrastructure that makes life outside possible, REI invests millions annually in hundreds of local and national nonprofits that create access to–and steward–the outdoor places that inspire us.
###