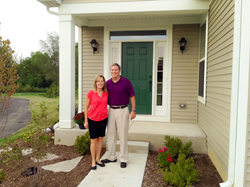 Aurora, IL (PRWEB) September 08, 2015
A ranch-style design, low-maintenance living and convenient Fox Valley location created the perfect combination for Pam and Paul Wieland, who purchased the Oakland at Tanglewood Oaks in Aurora.
Tanglewood Oaks from K. Hovnanian® Homes® is an intimate enclave of 28 low-maintenance, single-family homes nestled around cul-de-sacs backing up to the heavily wooded landscape of the Aurora West Forest Preserve.
Three ranch-style floor plans with 2,134 to 2,697 square feet of living space, three or four bedrooms, two to three baths, optional second floors, and two- or three-car garages are available. Base prices range from $267,495 to $303,495.
"The Oakland was just what we were looking for," said Paul Wieland who moved to Tanglewood Oaks with his wife in June. The couple downsized from a traditional two-story in Batavia after realizing that with their children grown and out of the house, they only used "about half the rooms." They looked at resales, which needed to too many upgrades, and custom homes before finding the best fit with Tanglewood Oaks.
With 2,134 square feet, the Oakland is actually about the same square footage as the Wieland's old house, but the space is centered in the areas they live in most—like the Great Room that opens to the kitchen and adjoining breakfast nook. The Oakland also has two bedrooms plus an office, which the Wielands use when occasionally working at home, along with two full baths, a formal dining room, basement, and two-car garage.
In addition to the open floor plan, Pam appreciates the spacious gourmet kitchen. "It's what I always wanted," she said.
Other favorite features in the home are the fireplace and hardwood floors throughout, which are not only beautiful but practical for the couple's two dogs. They added top-of-the-line wood banisters to the staircase leading to the basement for an upscale touch, as well.
The Oakland ranch home design was not the only thing that attracted the Wielands to Tanglewood Oaks. They also were drawn to the neighborhood and its wooded surroundings.
"We first stopped out here in October and the property was gorgeous," said Paul Wieland. The couple was one of the first to visit the community once K. Hovnanian® Homes® opened for sale. "The leaves were changing in the neighboring forest preserve and the landscaping was well manicured and lush. We knew we had to come here."
In fact, they liked the wooded environment so much they chose a homesite that backs up to the forest preserve.
Low maintenance was another deciding factor for the Wielands when choosing Tanglewood Oaks as their new home.
"A few years ago, we hired a lawn care service and got accustomed to not having to worry about cutting the grass and keeping up the landscape," said Wieland. "At Tanglewood Oaks, we live among beautiful grounds and have someone who takes care of them. What more could we ask for?"
The Wielands moved to Tanglewood Oaks from Batavia, only about eight miles away. Both Pam and Paul had just turned 60 and wanted to settle into a place and stay for a while as they approached retirement. They like the Fox Valley area and wanted to stay near Paul's work and other conveniences. Tanglewood Oaks offers all this…and more.
The community is minutes away from Interstate 88 via Orchard Road while shopping and dining are only a few miles down the road on Galena Boulevard. Nearby are Orchard Valley golf course, Bliss Creek Golf Club and Aurora Country Club. Plus, numerous parks, lakes and Blackberry Creek provide outdoor recreational areas.
"A block away is the Gilman Trail, a popular bike path. And other amenities are nearby, too," said Wieland. "But because of the forest preserves, it feels like we're living in the country."
Since moving in June, The Wielands have gotten to know many of their new neighbors.
"This is a close-knit community and the group of people who already lived here were very welcoming," he said.
Prior to moving to Tanglewood Oaks, the Wielands were familiar with K. Hovnanian® Homes® because the builder had other developments in the area. When it came time for them to start home shopping, Pam went online and found Tanglewood Oaks.
"The entire experience has been wonderful," said Paul Wieland. "We enjoyed the design phase—picking out all our interior selections. And the construction manager was really informative. With the walk throughs and seeing what's behind the walls, we felt like we were getting a home built with state-of-the-art construction.
"We checked on the progress of our home often, and the construction manager always made sure to keep us in the loop," he continued. "There was excellent communication throughout the entire building process."
To learn more about Tanglewood Oaks, visit the sales center at 3034 Trillium Court East in Aurora. The community is located on the north side of Galena Boulevard less than one-half mile west of Orchard Road.
The model is open 11 a.m. to 6 p.m. daily. For more information, call (331) 302-5948. Or log onto http://www.khov.com/tanglewoodoaks.
About Hovnanian Enterprises®, Inc.
Hovnanian Enterprises, Inc., founded in 1959 by Kevork S. Hovnanian, is headquartered in Red Bank, New Jersey. The Company is one of the nation's largest homebuilders with operations in Arizona, California, Delaware, Florida, Georgia, Illinois, Maryland, Minnesota, New Jersey, North Carolina, Ohio, Pennsylvania, South Carolina, Texas, Virginia, Washington, D.C. and West Virginia. The Company's homes are marketed and sold under the trade names K. Hovnanian® Homes®, Brighton Homes® and Parkwood Builders. As the developer of K. Hovnanian's® Four Seasons communities, the Company is also one of the nation's largest builders of active adult homes.
Additional information on Hovnanian Enterprises, Inc., including a summary investment profile and the Company's 2014 annual report, can be accessed through the "Investor Relations" section of the Hovnanian Enterprises' website at http://www.khov.com. To be added to Hovnanian's investor e-mail or fax lists, please send an e-mail to IR@khov.com or sign up at http://www.khov.com.
Paul and Pam Wieland have given permission for their names to be used in this material and approved the content of this message.