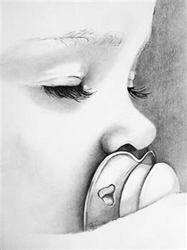 (PRWEB) September 04, 2015
Every month, American Frame, a web-based custom framing and art printing company, sponsors a contest for artists who sell and display work through American Frame's online Art Gallery. Winners are selected by customer votes on Facebook and receive a cash award and promotion through American Frame. This month's winner is artist Julie Ann Schuster.
Working in several mediums, including acrylic, ink, and graphite, Schuster explores many styles, such as florals and abstracts, but specializes mainly in commissioned portraits of young children and pets, which she is drawn to "because of their innocence." A self-taught Toledo, Ohio resident, Schuster regularly displays her work in downtown Toledo at the Davis Building and has recently returned to school for formal art training. She also teaches art to teens with disabilities and lends her talent to numerous local charities.
The winning portrait, "Peaceful," showcases Schuster's delicate hand and compelling use of light and shadow to depict an infant's sleepy profile. "This was the easiest portrait I've ever drawn. I had the clearest mental picture of it and the work came out perfectly on my first attempt."
A black or dark gray frame from American Frame's Basics, EcoCare, or Restorations collections, paired with a soft white mat, would make an ideal treatment for this meditative image.
To contact Schuster or follow her work, visit her American Frame gallery or her Facebook page.
About American Frame
American Frame provides professional-quality DIY custom picture framing supplies and fine art printing services at wholesale prices direct to the consumer. Its easy web interface allows customers to design a custom frame treatment for assembly in the comfort of their homes or studios. They can also upload a digital image to be printed on canvas or fine art paper and receive framed work ready to hang. All orders are handcrafted in Maumee OH and shipped within 2 business days. Family owned and operated since 1973. Love your art. Frame it right.™