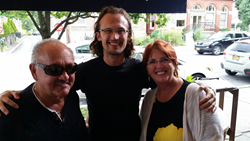 During the trek—which he calls the "Connecting Las Americas" project—Max crossed six countries in 168 days on his 39-year-old Moto Guzzi Motorcycle on a mission to document socially-conscious businesses
Rhinebeck, NY (PRWEB) September 03, 2015
Topical BioMedics, Inc., hosted Amsterdam resident Max Wohlgemuth Kitslaar when he made the company the final destination of his six-month, 10,000 mile journey from Santiago, Chile to Times Square and then Rhinebeck, New York.
During the trek—which he calls the "Connecting Las Americas" project—Max crossed six countries in 168 days on his 39-year-old Moto Guzzi Motorcycle on a mission to document socially-conscious businesses that work toward creating a better world, then sharing their stories on an online travelogue with text and videos. His goal: to counter negative perceptions by showing that there are inspiring people and socially responsible companies focused on addressing the world's problems everywhere. http://www.connectinglasamericas.com
Headquartered in Rhinebeck, NY, Topical BioMedics is a B Corp—certified by the nonprofit B Lab to meet rigorous standards of social and environmental performance, accountability, and transparency. To become a certified B Corp, a business must prove that it cares as much about society and the environment as it does about profits.
"We were delighted to meet Max, and honored that he chose to end his long, amazing journey by visiting us and listening to our story," says Lou Paradise, president, chief of research, and inventor of the company's Topricin and MyPainAway line of safe, natural pain relief and healing cream formulas. "We have always practiced business in a socially conscious way, and we were gratified when B Lab championed for-profits that are 'doing well by doing good.' To be documented by Max along with brother and sister North and South American B Corps as well as many other successful businesses that are operating with heart and soul, in a socially responsible manner, is an absolute honor."
Thirty-two year old Max created "Connecting Las Americas" while vacationing in Mallorca, Spain, when he received news his next business project was cancelled. It was the same day he finished the book Man in het Zadel by Dutch journalist Paul van Hooff. Inspired by tales of van Hooff's travels by motorcycle, Max decided to ride his own Guzzi from Chile to New York, capturing stories of those who have transformed their ideas for environmental and social impact into realities.
"I decided to do something similar to van Hooff, but wanted my journey to have a mission," says Max. "I wanted to connect with socially-conscious businesses across the Americas. To give these businesses a stage to tell their amazing stories. To show the amazing people behind these businesses. And to inspire others all over the world by the incredible energy of these people."
Max's travels took him to Chile, Argentina, and over the Andes Mountains, as well as the Peruvian coast. In the U.S. he travelled from Florida to New York, stopping in major cities such as Miami, Richmond, Washington, DC, Philadelphia, and Manhattan. Last stop: Rhinebeck, in New York's Hudson Valley. All on a motorcycle that is older than he is.
Max met with business in many different industries including: health and wellness, restaurant and hospitality, IT, sports, water management, waste management, food and beverage, education, manufacturing, footwear and apparel, graphics and signage, organic coffee growers and fair trade importers/exporters, and a Columbian peace-promoting outreach organization. Says Max of the people he met at these enterprises, "I see fire in their eyes. They want to be doing what they're doing and they're committed to change."
Max is now writing an e-book about his journey, calling it "A story about hope, moving forward, and positivity." Its format includes embedded videos and readers can interact by making comments and asking questions that Max will respond to, so the book will evolve and engage on multiple levels. https://medium.com/@max_maxmundo
"With Connecting Las Americas I hope to inspire people to act upon their ideas, no matter how large, small, or improbable they seem" says Max. "I'm just a normal guy and I thought 'Why don't I ride 10,000 miles from Chile to NY?' and I did it. Others can do things, too. Even the smallest thing can have a huge impact."
ABOUT MAX WOHLGEMUTH KITSLAAR:
When not traveling, Max Wohlgemuth Kitslaar lives in Amsterdam, the Netherlands. After earning a law degree and a Masters in Latin America Studies, he helped a friend's technology business go multi-national. He imports organic cava, and is challenging soccer superstar Zlatan Ibrahimovic to gather his teddy bears, to distribute them to kids in need.
From February-September 2015 he rode his old timer motorcycle from Chile to New York, in search of business doing good. After making it to NYC, he started writing an e-book about the trip.
Links:
Connecting Las Americas: http://www.connectinglasamericas.com
Book: https://medium.com/@max_maxmundo
ABOUT TOPICAL BIOMEDICS:
21 years in business and a Certified B Corporation, Topical BioMedics is a research and development leader in topical patented natural biomedicines for pain relief. The company's flagship product, Topricin® Pain Relief and Healing Cream, was introduced in 1994 and is now a leading natural therapeutic brand. A combination natural biomedicine formula, Topricin has been awarded a patent for the treatment of pain associated with fibromyalgia and neuropathy. Topricin products are mandatory treatment protocol at world renowned medical centers.
The Topricin family of natural healing products also includes Topricin Foot Therapy Cream, specially formulated to treat painful foot and ankle issues and conditions, and Topricin for Children, which received the Parent Tested Parent Approved Seal of Approval (with 5% of sales are donated to pediatric cancer foundations). The company has just launched the MyPainAway™ (powered by Topricin) line of products. Its two new formulas have been introduced—MyPainAway Fibro Cream and MyPainAway After-Burn Cream—with others slated to roll out later in 2015 and 2016.
Made in the U.S.A., all Topricin products are federally-regulated over-the-counter medicines with no known side effects, no parabens, petroleum, or other harsh chemicals, no grease, and no odor.
Topical BioMedics launched a free monthly pain management webinar in February 2015. Featuring Lou Paradise, president, chief of research, and pain management expert, the webinars are streamed live the second Tuesday of each month from 12pm to 1pm then archived on the company's WordPress blog for on-demand access 24/7. https://topricin.wordpress.com/
Topricin is available in independent pharmacies, natural food and co-op stores nationwide, including Whole Foods, Sprouts, Pharmaca, The Vitamin Shoppe, Fred Meyer, Wegmans, CVS (Foot Care Section), Walgreens (Diabetic Section), and other fine retailers, as well as directly from the company.
For more information visit http://www.topricin.com ; http://www.topicalbiomedics.com.
ABOUT B LAB:
B Lab is a 501(c)3 nonprofit that serves a global movement of entrepreneurs using the power of business to solve social and environmental problems. B Lab serves these entrepreneurs through three interrelated initiatives that provide them the legal infrastructure and help them attract the customers, talent, and capital to scale.
B Lab drives systemic change through three interrelated initiatives: 1) building a community of Certified B Corporations to make it easier for all of us to tell the difference between 'good companies' and just good marketing; 2) accelerating the growth of the impact investing asset class through use of B Lab's GIIRS impact rating system by institutional investors; and 3) promoting legislation creating a new corporate form that meets higher standards of purpose, accountability, and transparency. For more information visit http://www.bcorporation.net.
###