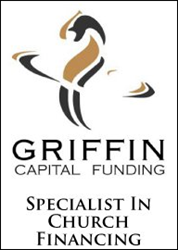 This is a game changer; Churches are going to be able to spend up to $10,000 per month in advertising for their church without any cost to them
Fredericksburg, VA (PRWEB) September 03, 2015
Griffin Capital Funding, a leader in church financing, is always looking for new ways to help churches. Griffin Capital Funding proudly announces that they have recently partnered to offer advertising grants to churches.
Griffin Capital Funding, a leading provider of church financing, is constantly exploring to find new ways to help churches grow and spread their message. Over the past 15 years, Griffin Capital has closed almost 1,000 loans for churches, created the Pastor Protection Program and has the only nationwide program designed to save churches facing foreclosure. Now, Griffin Capital is excited to introduce an advertising grant program.
Churches and other non-profit organizations with a 501c3 and a website can qualify for up to $10,000 in free in-kind advertising each month to be utilized through a major search engine advertising platform. (A complete list of qualifications and guidelines can be found at http://www.churchloan.net by clicking on the grant banner).
The recurring $10,000 monthly grant can be used for most purposes including membership drives, promoting missions, increasing fundraising awareness and advertising your community events.
The new grant program will be of significant relevance for churches. When John Berardino, President of Griffin Capital Funding, was asked about the new grant program, he replied "This is a game changer; Churches are going to be able to spend up to $10,000 per month in advertising for their church without any cost to them. Think about what $120,000 per year in free advertising can do for the average church. This is targeted advertising where churches will be able to control the message that the community sees, and they can change it as frequently as they like. The purpose of the grant is to help non-profit organizations deliver their message."
The application process is easy and fast. There is no application fee, and if you are familiar with advertising, you can manage the grant yourself at no cost. If you need help managing the grant, there is a reasonable monthly fee. To find out more about the grant application process and program guidelines, please visit http://www.churchloan.net . You may also contact Liz Kujawa at 540-736-0135 or e-mail lkujawa@gcfunding.com
About Griffin Capital Funding
Griffin Capital Funding has been serving churches for 15 years by providing church loans for the refinance, construction, renovation and purchase of almost any church building (churchloans.net). On average, Griffin provides over $100,000,000 a year in loans to churches. Griffin Capital Funding is one of the most well-known and respected church financing companies in the country. Griffin Capital Funding also offers loans to for profit businesses through the SBA 7A and 504 loan programs as well as offering hard money loans.